Back to top
Family Picnics at Marin's Cheese Factory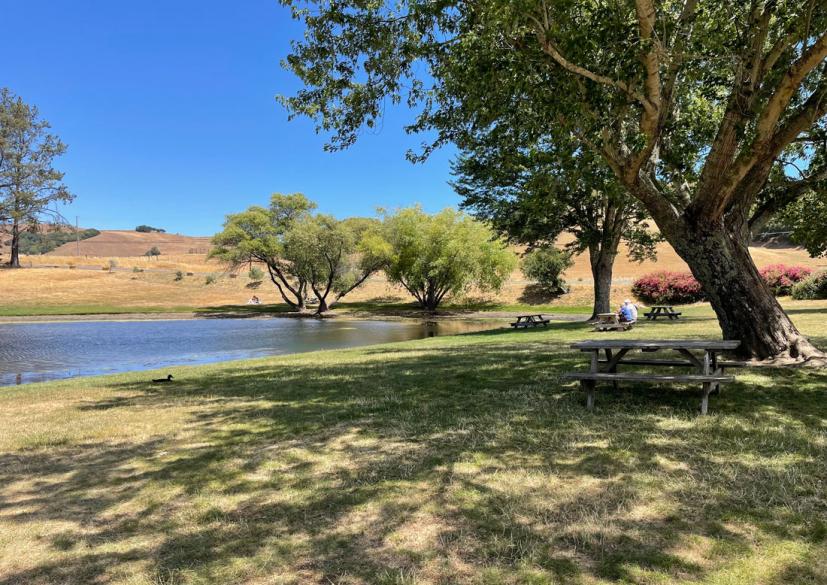 One of our absolute favorite Marin picnic spots is on the grounds of the Marin French Cheese Company, located just west of Novato on Point Reyes–Petaluma Road. It's an ideal place to spend a relaxing afternoon, whether it's on a sunny winter day or during the summer, and is a must-visit place for Bay Area residents and visitors alike.
If you haven't been to the Cheese Factory (as it's known to locals), then you've surely seen it as you've driven out to the Point Reyes National Seashore from Novato or Petaluma. Both my husband and I grew up visiting this place, and of course now we come here with our own family. It's well worth the trip at almost any time of year, and it's a great first stop on the California Cheese Trail.
The Cheese Factory is the oldest cheesemaker in California, and has been producing cheese from Marin's high quality milk since 1865. In the 19th century, the Cheese Factory delivered its product—a soft fresh cheese—to saloons and restaurants in San Francisco. They still make this original cheese, known today as Breakfast Cheese, which you can sample and buy in their on-site store.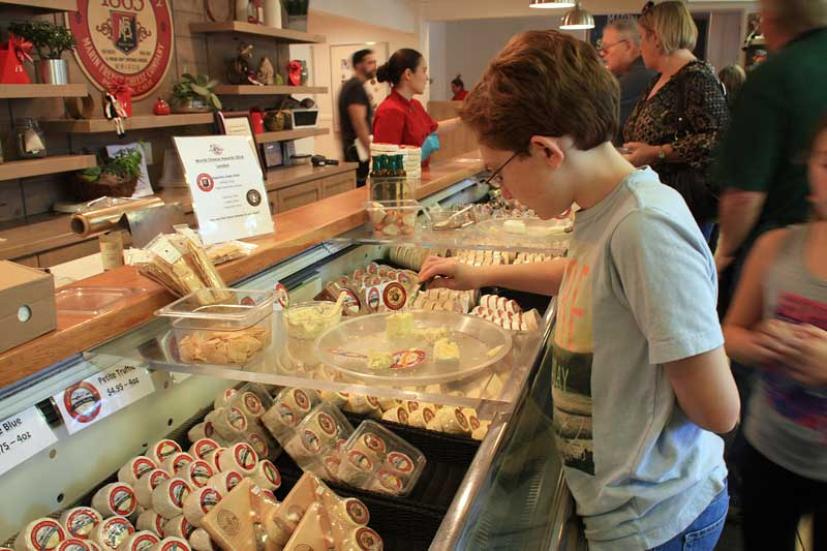 The Cheese Factory is more famous, however, for their award-winning Rouge et Noir brand European-style cheeses including Brie (available in several flavors and styles), Camembert, Schloss (a washed-rind cheese similar to Limburger or Liederkranz), quark, and more. Most of the cheeses are available for purchase in the store, along with other picnic staples like locally baked breads, crackers, chips, and olives, making it a visit a great excuse for an impromptu al fresco lunch.
The Cheese Factory shop and tasting room offers some indoor seating and a soup and deli counter offering custom-made hot and cold sandwiches, soups, and salads. They also sell good pre-made sandwiches (try to get the ones they make using their own brie), ice cream, and pastries, as well as beer, wine, sodas, coffee, and other drinks.
On one side of the store is a group of picnic tables and a pond that is often populated with ducks and geese. Many visitors bring a blanket and picnic lunch and park themselves in front of the pond for a relaxing afternoon. We've even seen people fishing there, too.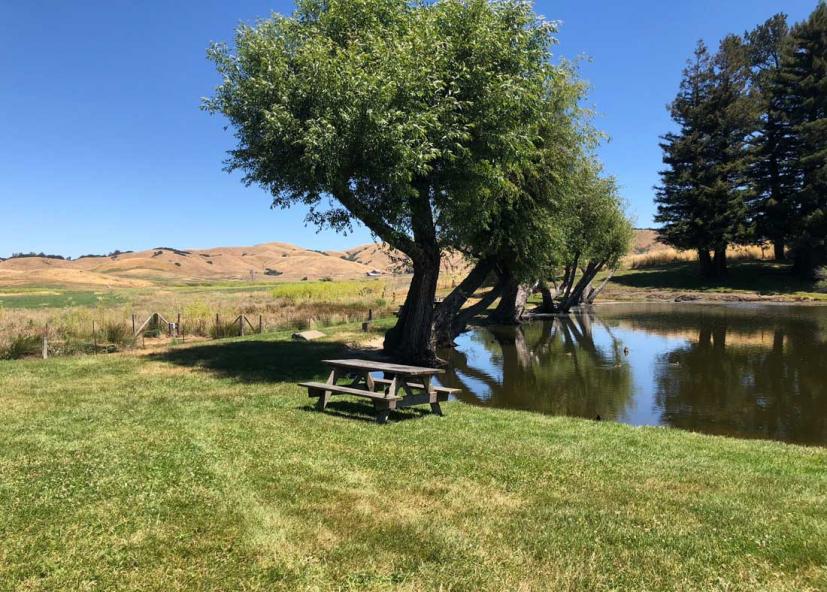 When we want to picnic at the Cheese Factory, we usually head straight in to the back of the building, where you'll find a huge lush green lawn with picnic tables for use by Cheese Factory customers scattered all around. There are plenty of trees for ample shade, and the area is sheltered from the wind, making it a great spot to spread out a blanket or two, set up the folding chairs, and spend the afternoon after you purchase your picnic from the store. It's rarely crowded, so the kids have plenty of room to run around and play.
If You Go
Marin French Cheese is open daily from 10 am to 6 pm during the summer and 9 am–5 pm during the winter. It's closed on New Year's Day, Easter, Thanksgiving, and Christmas. The factory does not offer public tours, but a small exhibit and video monitor in the shop show the varieties of cheese and how they're made.
The Cheese Factory is located between Novato and Nicasio at 7510 Point Reyes–Petaluma Road. Look for it on the west side of the road about a half-mile south of where Novato Boulevard intersects Point Reyes–Petaluma Road. It's a great place to stop for provisions on the way to the Point Reyes National Seashore, too.
The front parking area can get pretty busy on nice weekend days, with cars, bicycles, and motorcycles in abundance. Plenty of additional parking may be found in back (to the left of the buildings) near the picnic area.
Restrooms for use by customers are available near the picnic area near the pond. On-leash dogs are welcome in the picnic areas.
Fore more information, visit www.marinfrenchcheese.com or call (800) 292-6001 ext. 12.
Sign up for tips & news for Marin families!