Back to top
Family Friendly New Year's Eve Events in Marin and the Bay Area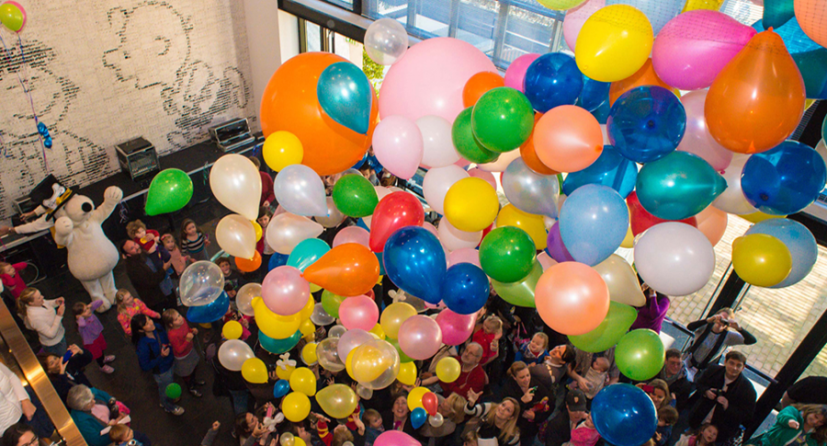 Celebrate the New Year in at the Charles M. Schulz Museum celebration!
Say goodbye to 2019 and welcome in the New Year at one of these family friendly events taking place in Marin and elsewhere in the Bay Area. Many of these celebrations take place earlier in the day or evening on December 31 so little ones can get a taste of New Year's Eve fun without staying up past their bedtimes. Unless otherwise noted, all these events take place on New Year's Eve, Tuesday, December 31, 2019.
Noon Year's Eve
Bay Area Discovery Museum, Sausalito
9 am–2 pm
Ring in the New Year with your little ones at the Bay Area Discovery Museum's Noon Year's Eve! This kid-friendly affair includes music, a celebratory ball drop at noon, dancing, and various art activities: decorate Sparkle Crowns in the Art Studios and create Ribbon Wands. In addition, enjoy access to the museum's indoor and outdoor exhibits like Lookout Cove and Bay Hall. Event details.
Noon Year's Eve
Habitot Children's Museum, Berkeley
9:30 am–12:30 pm
Make noise-makers and hats in the Art Studio with a countdown and bubbles at noon. Free with museum admission. Location: 2065 Kitteredge Street, Berkeley. Event details.
Annual Japanese New Year's Bell Ringing Ceremony
Asian Art Museum, San Francisco
9:30 am–1 pm
Ring in the New Year by taking a swing at a giant 2,100-pound, 16th-century, Japanese temple bell at the Asian Art Museum. Participants may take turns ringing the museum's bronze bell to leave behind any unfortunate experiences, regrettable deeds, and ill luck of the previous year. Museum members get to ring from 9:30 am–11:30 am; everyone else can join in a 11:30. First come, first served. Pick up tickets to ring the bell at the admission desk. Location: 200 Larkin Street, San Francisco. Event details.
Happy New Year, Charlie Brown!
Charles M. Schulz Museum, Santa Rosa
10 am–4 pm
Ring in the New Year with Snoopy, a balloon drop, and root beer toasts at noon and 3 pm. Enjoy hands-on activities for kids! Featuring Santa Rosa's only up-down and baby balloon drops. The Charles M. Schulz Museum is located at 2301 Hardies Lane in Santa Rosa. Event details
New Year's Eve Balloon Drops
Chabot Space & Science Center, Oakland
11 am–4 pm
Ring in the New Year without staying up all night! Come to Chabot and celebrate strokes of midnight from around the world at 11 am, 1 pm, and 4 pm! Kids count down and catch hundreds of colorful balloons as they drop from the ceiling and participate in fun activities to receive a special prize. Now the kids can ring in the New Year without staying up past their bedtime! Balloon drops divided by age group. Cost: $5 after museum admission. Space is limited; reservations required. Event details
Bouncy Ball New Year
Downtown Novato
11:45 am–1:30 pm
Everyone is invited to Downtown Novato to celebrate the New Year by watching 20,000 small bouncy balls (celebrating 2020) get dropped onto the street from a ladder truck 40 feet high in the air. This event is free to attend and will take place rain or shine. All kids will get a souvenir "hard hat" and can keep as many bouncy balls as they can get their hands on. If you're worrying you won't be able to stay awake until midnight to celebrate 2020, this event is perfect for you. Location: Machin Avenue at Sweetser, Downtown Novato. Event details
New Year's Eve Seashore Sleepover
Monterey Bay Aquarium
7 pm–8:30 am
Ring in the New Year with the entire family (ages 5 and up) at the Monterey Bay Aquarium! This special New Year's Eve event features a sundae bar and a sparkling cider toast at 9 pm to celebrate the New Year on East Coast time, and there will be fun family activities and programs for a night of celebration! Wake up with the fishes on New Year's Day, enjoy a full breakfast in the cafe, then join aquarium naturalists in watching wildlife from the Great Tide Pool deck. $165 per person, reservations required. Event details
New Year's Eve Fireworks Celebration on the Bay
Ferry Building near Pier 14, San Francisco
11:30 pm
Celebratory fireworks will launch from barges located 1,000 feet out in the Bay near Pier 14 (at Mission Street and the Embarcadero). Prime viewing spots will be south of the Ferry Building along the Embarcadero between Mission and Folsom Street or up high on one of the hills or upper Market Street.
Sign up for tips & news for Marin families!