Back to top
Family Road Trip to Pacific Grove
The butterfles are back! One of our favorite places for a fun family getaway is the picturesque seaside town of Pacific Grove, famous for its Monarch Grove butterfly sanctuary. While 2020 saw almost no monarch butterflies return to the grove, this year there are thousands, with more arriving each day!
While not as flashy as Monterey, Carmel, and its other neighbors in the Monterey Bay Area, Pacific Grove makes up for this in charm, billing itself as "America's Last Hometown" and "Butterfly Town USA". With a close proximity to the Bay Area, plenty of things to see and do, and an amazing coastal location, Pacific Grove is an ideal place for a family getaway this fall or winter. (Or any time of year, really.)
Things to Do in Pacific Grove
Located on the tip of the Monterey Peninsula between Monterey and Pebble Beach, Pacific Grove (known by locals as "PG") boasts not only natural wonders like the Monarch Grove and Asilomar State Beach, but picturesque Victorian houses and a cute bustling downtown with a wide variety of dining and lodging options as well. The city of Monterey and the famous Monterey Bay Aquarium are literally just minutes away, the aquarium actually sited only a few yards from the Monterey-Pacific Grove border.
Since it's a seaside community, there are plenty of activities focused around the ocean. Asilomar State Beach faces the Pacific Ocean on the west side of town, and features a broad expanse of white sand beach, tidepools, and miles of walking paths. Watch for sea otters bobbing around in the surf, and look for whales passing by in winter and spring. On the north side of town in Lover's Point Park, with its own beach on the calmer Monterey Bay, a snack bar, kiddie pool, recreational facilities, and more.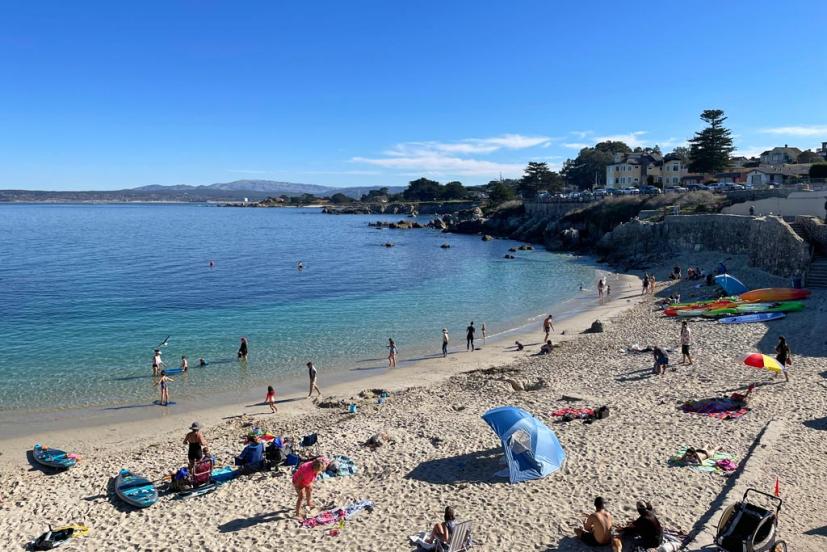 Every fall and winter, Pacific Grove becomes home to over 25,000 Monarch butterflies, many of whom reside in the Monarch Grove Butterfly Sanctuary. You can view overwintering butterflies in the sanctuary from October through late February. Admission is free, and there are often informative docents on hand to answer questions and let you have take a look at butterflies through a spotting scope or binoculars.
The Pacific Grove Museum of Natural History, at the corner of Forest and Central Avenues, presents exhibits about local plants, animals, geology, and native peoples. The museum also offers fun free science and nature activities for children. Admission is $8.95 for adults, $5.95 for youth, seniors, and students, and free for 2 and under and Monterey County residents.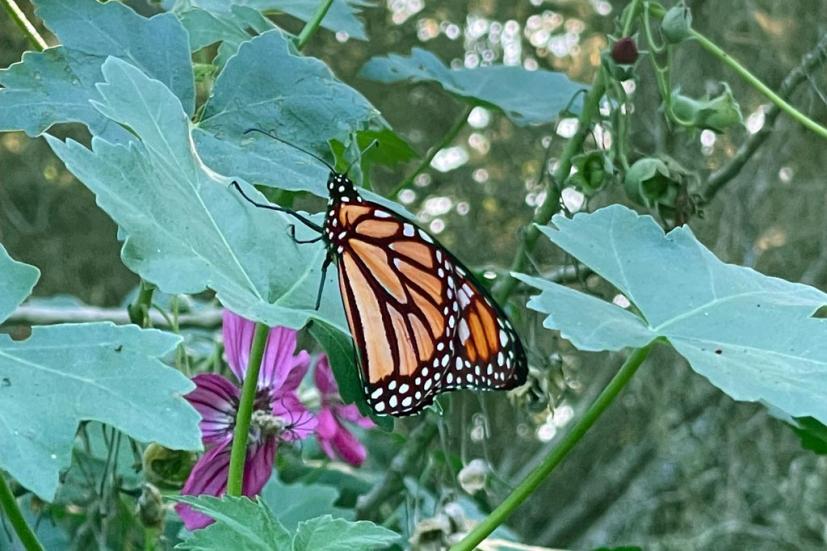 A visit to Point Pinos Lighthouse, the oldest operating lighthouse on the West Coast (it was built in 1855) is always worth a visit, too. Currently the interior of the lighthouse is closed due to COVID precautions. Tours (Saturday and Sunday from 1 to 3 pm) are still conducted of the grounds.
As we mentioned, the more tourist-oriented attractions of neighboring Monterey, including the aquarium, Cannery Row, Fisherman's Wharf, and historic Spanish and Mexican buildings, are close by. We love the Dennis the Menace Playground in El Estero Park, located right off Del Monte Avenue on Pearl Street, near the Fisherman's Wharf area. Created in part by Dennis the Menace cartoonist and Monterey resident Hank Ketcham in the 1950s, this big playground will keep kids busy for hours with its slides, bridges, maze, climbing wall, and more. The park also boasts a genuine Southern Pacific steam locomotive (currently off limits to park visitors). There are also restrooms and a snack bar on site.

Where to Eat
One of our favorite family friendly dining spots in PG is the popular Toasties Cafe, downtown at 702 Lighthouse Avenue. It's a great spot for breakfast and lunch, and there are toys like Magnadoodles on hand to keep kids occupied while you wait for your food. Outdoor dining is an option on nice days. Right around the corner is Caledonia Park, which has a nice playground where kids can play afterward.
Other family friendly places we've tried and liked include:
Peppers Mexicali Cafe (170 Forest Avenue): Solid Mexican favorites in a cute space right downtown.
The Monarch Pub & Restaurant (617 Lighthouse Avenue): Great fish and chips and other British pub grub; outdoor seating with fire pits.
Lucy's on Lighthouse (1120 Lighthouse Avenue): Cool surf shack with gourmet hot dogs, tater tots, ice cream, beer garden, and live music.
The Little Chicken House (1193 Forest Avenue): Wood roasted rotisserie chicken and other BBQ specialties, with a drive-thru.
There's also a Trader Joe's and a Safeway on Forest Avenue if you want to pick up snacks or supplies to make your own lunch.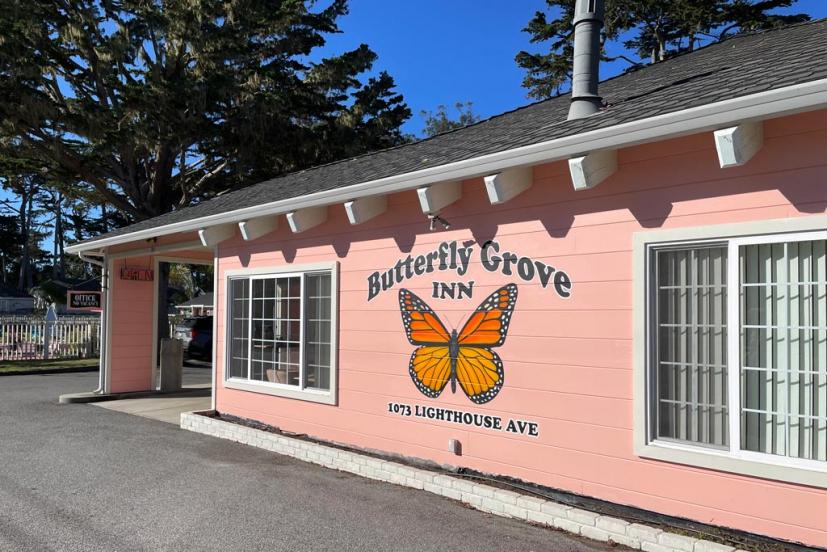 Where to Stay
PG is chock full of lodging options ranging from quaint B&Bs to classic motels. Some good options for familes with children include:
The Pacific Grove Chamber of Commerce also maintains an extensive list of places to stay on its website.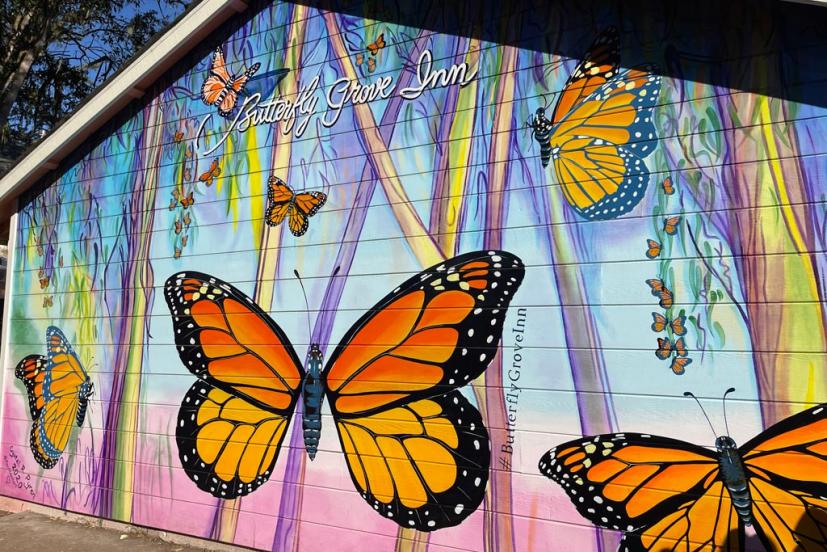 Getting There
Pacific Grove and the Monterey Peninsula are about a 2 1/2- to 3-hour drive south of Marin, depending on the traffic.The most direct route is to pick up Interstate 280 in San Francisco and follow it to 101 in San Jose. Head south on 101 until you get to Prunedale, where you'll exit onto Highway 156 west, which will run into Highway 1 in Castroville. Follow 1 south and take the Del Monte Boulevard/Pacific Grove exit into Monterey. Once in Monterey, head west on Del Monte Boulevard and follow the signs to Cannery Row and Lighthouse Avenue. Take Lighthouse through Monterey, then turn left onto David Avenue and then right again back onto Lighthouse which you can then take directly into downtown Pacific Grove.
Sign up for tips & news for Marin families!