Back to top
The Best Restaurants Just Got Closer to Home with Local Kitchens
Marin Mommies presents a sponsored article from Local Kitchens now open in Mill Valley and Novato.
Have you and your family tried Local Kitchens yet?
Local Kitchens is one of the newest restaurants in Marin County with 2 locations, one in Mill Valley which opened in September and their newest in Novato which opened one month ago.
Each location features a wide variety of popular Bay Area restaurants in one, so families, foodies, and groups of all kinds can enjoy exploring different cuisines and mixing and matching items across menus, to meet everyone's dietary needs and preferences (even for the pickiest eaters in our families!).
The food is made fresh to order on site and the quality is high with each menu item made just as you would expect from each brands' own locations in the city.
Since joining the community, Local Kitchens has had wonderful feedback from guests, earning them near 5 star reviews on both Google and Yelp at each location. We're very thankful for the warm welcome and look forward to serving great food to more and more folks in Marin county.
Ordering with Local Kitchens

Local Kitchens makes ordering meals convenient for the whole family with options for delivery, pick up, or dine in at each Marin county location. They have a simple app that makes ordering even easier or if preferred, you can order on their website or in-store at one of their kiosks.
However you choose to order, keep in mind that if you create an account you will earn rewards that get you discounts, free items, and exclusive offers!
Brands Available at Local Kitchens in Marin County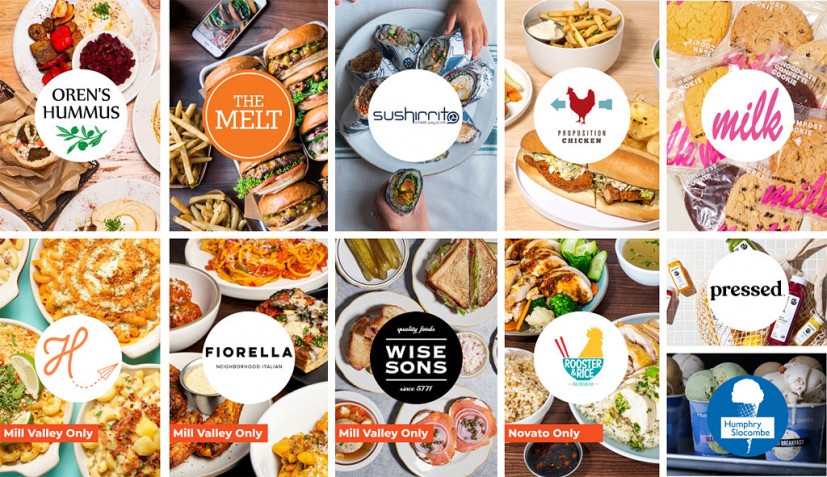 Currently each location has a slightly different mix of menus from great Bay Area restaurants including: 
Oren's Hummus — Healthy Israeli-Style Mediterranean 
The Melt — Burgers, Grilled Cheese, & Fries
Sushirrito — Sushi Burritos & Bowls
Proposition Chicken — Fried Chicken & Fries
Homeroom — Mac & Cheese
Fiorella — Pizza, Wings & Pasta
Wise Sons — Deli Sandwiches & Bagels
Rooster & Rice — Healthy Thai Chicken & Rice
Milk Bar — Cookies & Cake Pops
Pressed — Veggie & Fruit Juices
Humphrey Slocombe — Ice Cream Pints
For more information check out LocalKitchens.com and follow them on Instagram @eat.local.kitchen
Sign up for tips & news for Marin families!