Back to top
2019 Grand National Rodeo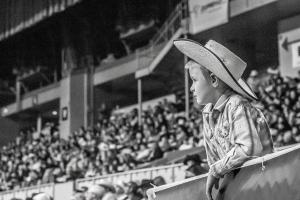 The Cow Palace is bringing back the Wild West to the Bay Area with the annual Grand National Rodeo, Livestock Exposition and Horse Show. Now in its 73rd year, the Grand National Rodeo will celebrate the time-honored tradition of America's West by presenting the best of the best in the competitive sport of rodeo.
The two-weekend event is presented by the Cow Palace and produced by Cotton Rosser and the Flying U Rodeo Co., which has produced the event for the past 50 years. The Grand National Rodeo features traditional rodeo events including bareback riding, steer wrestling, team roping, saddle bronc riding, tie-down roping, bull riding and barrel racing.
During the livestock exposition, real farm equipment and animals are on site with interactive displays to learn about how food is grown. Exhibitors will show cattle, hogs, sheep, goats, and rabbits, along with photography and fine art.
Hightlights for Friday, October 11:
FIRST RESPONDER FRIDAY
7am - 5pm: Drill Team Jackpot Competition & Color Guard – Main Arena
8am: Livestock Judging Contest
1pm: Junior Registered Sheep Showmanship –- Bay A
Followed by Junior Registered Sheep Show
Followed by Supreme Champion Ram
Followed by Supreme Champion Ewe
2pm - 11pm: Grand National Marketplace & Agricultural Exhibit Open – South Hall
5pm-7pm: Grand National Western BBQ – South Hall
7:30pm: PRCA Rodeo Performance with:
National Anthem
Drill Team Champions Performance
Parade of Champions – Jr Livestock Exhibitors
Golden Parade of Champions presented by UCSF Benioff Children's Hospital
Scholarship Awards Presentation
Presentation of the Cow Palace Blue Ribbon Award
9:30pm - 11:30pm: Live music by Chad Bushnell – South Hall