Back to top
38Makers 2019 - Holiday Fair at Pinterest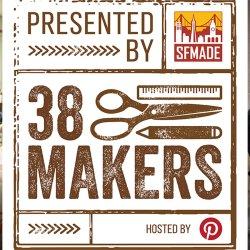 DISCOVER SFMADE GOODS AT PINTEREST HQ
SFMade and Pinterest present their annual shopping event with favorites from the years before - and some new fresh ones too!
38Makers kicks off the season with a holiday gift fair specially curated by Pinterest for shoppers looking for artisan, locally-made gifts in a unique and festive setting.
Imagine you discover a Pinterest board of hand-picked goods from makers in your city, and now imagine it brought to life! SFMade and Pinterest have combined their passions for bringing creative ideas to life for the sixth annual joint event inside at Pinterest.
Jewelry, tea, gourmet gifts, wine, home & garden items, holiday cards & decorations, stationery, bags, body products, men's & women's apparel, pet gear and more, all made in San Francisco! Plus holiday treats from Pinterest.
$5 donation.
Presented by SFMade.