Back to top
Celebrate Mother's Day in the Garden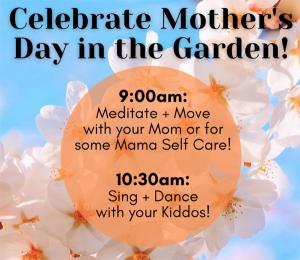 I'll be offering Meditation and JAMboodas Classes in SF Botanical Garden four Sundays in May (8/15/22/29), and for Sunday, May 8, I'll be doing special Mother-themed classes to honor the Mamas in our lives.
Meditation: If your Mom is local, bring her to meditation at 9am for a special bonding experience! Or just come with love in your heart for those who have nurtured you, or as a self-care morning for JUST MOM!
JAMboodas: And if you want a fun activity for the whole family, join in JAMboodas at 10:30, where we'll sing and dance about mamas, Mother Earth, mama animals, and all that yummy Mama love! Or send your kiddos with another parent, grandparents or a friend and take some time for JUST YOU!