Back to top
Cheer on the Rombeiro House for TV!
Rombeiros' Christmas House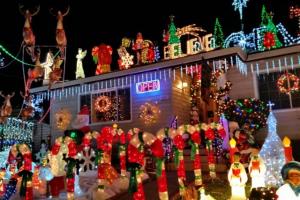 Novato's famous Rombeiro Christmas House, the over-the-top decorated holiday house beloved by countless locals and visitors, was selected as a finalist on a national holiday lights TV show! We can't reveal the name of the show, but the Rombeiro family would like to invite as many people as they can to be on hand for "reveal night".
On Sunday, November 4, the show's judge will be seeing the house for the first time, and they want to make sure there's a fantastic crowd on hand to cheer them on. If you'd like to participate, please arrive at the Rombeiro House on Devonshire Drive in Novato around 5 pm. The judge arrives and the excitement begins at 6 pm!