Back to top
The Rombeiro Christmas House in Novato: You Have to See It to Believe It!
Every December, Marin's power grid is yet again put to the test by the annual unveiling of the Rombeiro Christmas House on Devonshire Drive in Novato. Sure, every neighborhood has its decorated houses, but the Rombeiro house is a different thing altogether. Edmundo Rombeiro and his family have been putting together this Christmas house to end all Christmas houses for the past 27 years, and every year it gets bigger and more elaborate.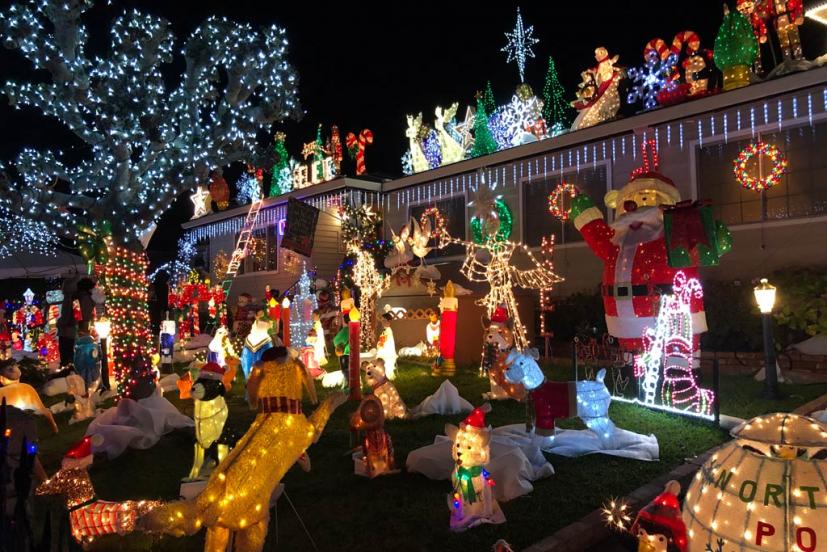 Their home is something that truly has to be seen to be believed, and photos don't really do it justice. There are something like 200,000 lights inside and out as well as countless figurines, dioramas, and decorations adorning the front and side yards, walls, and roof of the Rombeiro house. Apparently they start setting the whole thing up in August.
This year, the Rombeiros got a bit of an early start on the season when they were selected to be on the ABC TV show "The Great Christmas Light Fight". (No word on whether they won yet, but you can find out when you watch the show, which is scheduled to air during the 2019 holiday season.)
We've also heard from a few sources that this is the last year of the Christmas House. We checked with the Rombeiros and this isn't necessarily true; they plan on setting it all up again next year because of the TV appearance, and Edmundo Rombeiro's hope is to keep it going until for three more years until the Christmas House's 30th anniversary. It all depends on the family's health and other factors, so we'll all have to experience the holiday joy it brings us while it's here.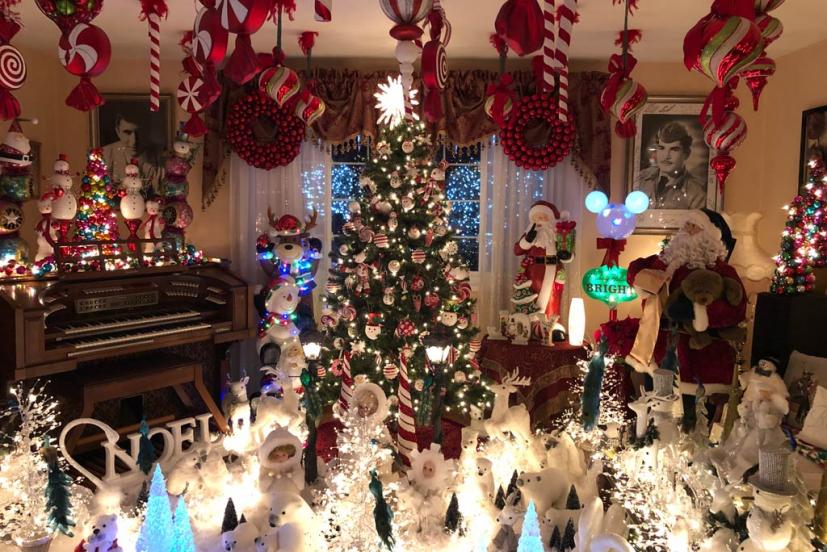 When you visit, you'll notice that there's a glowing neon "open" sign in the window near the front door. Yes, the Rombeiros, who do live here, open their house to tens of thousands of complete strangers every year, allowing them to wander through the house and check out the decorations inside. Last year they welcomed over 43,000 visitors (that's right—43 thousand), including 14 tour buses!
We visited the house, which happens to be in our neighborhood, on opening night last night, and were greeted by Mr. Rombeiro in his Santa Suit out in front. This year, Mr. Rombeiro has gone full Santa again, with a sleigh under a canopy in the driveway where he's more than happy to pose for pictures with the kids. This man lives, eats, and breathes Christmas! Here's one of my favorite photos from a few years ago: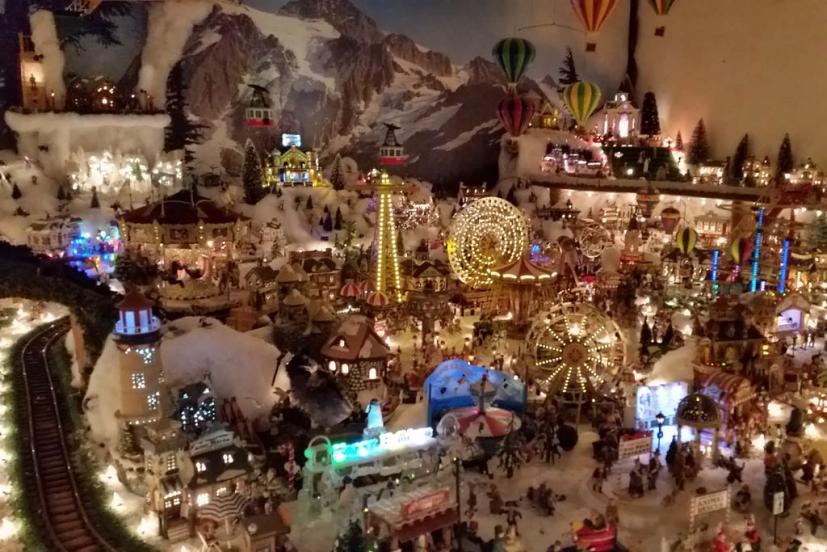 If you think the outside is impressive, then you need to go on inside and get a healthy dose of Christmas spirit. You'll find model trains, more figurines, Christmas trees, and the biggest lighted holiday village you've ever seen.
Proceed down the hallway to check out the displays in two of the bedrooms, one of which includes a lighted miniature reconstruction of a festival at family patriarch Edmundo Rombeiros' hometown of São Miguel in the Azores. Topping it off, the Rombeiro family is super nice and welcoming, and are on hand in the kitchen to greet, chat with, and hand out candy canes to all visitors.
On your way out, you might want to put a couple bills on the donation box. All that holiday cheer doesn't come cheap, and if you're getting some enjoyment out of it the least you can do is help with the Rombeiros' PG&E bill, which rumor has it tops out around $4,000 in December. If you're going to make a special trip to one Christmas house this year, make it this one!
The Rombeiros' neighbors seem to take all the commotion in stride, even with the cars, and the occasional brass band, horse-drawn wagon, and searchlights, all of which we've seen out in front of the house at different times. In fact, there are a number of attractively decorated houses in and around Devonshire Drive, so it's worth touring the neighborhood during the holidays.
If You Go
The Christmas House is located at 34 Devonshire Drive, off of Center Road, in Novato. At night, I'd be willing to bet that you can see the place from outer space. Get there by taking 101 to the San Marin Drive exit. Follow San Marin to Center Road, where you'll turn left, then turn left on Devonshire.
When we stopped by on opening night and it was already pretty busy, but in a fun sort of way, with a number of families ogling the lights, touring the house, and chatting with the Rombeiros. Closer to Christmas, weekend nights can be pretty chaotic, with difficult parking on neighborhood streets. The house is open nightly from the first Saturday in December through January 6 (Three Kings Day) from 6 to 10 pm, including Christmas Eve, Christmas Day, New Year's Eve, and New Year's Day.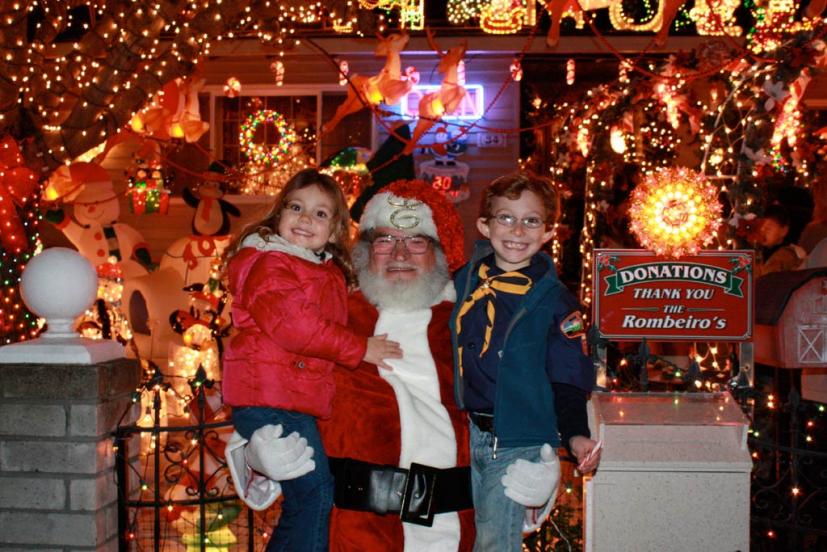 There are a few other nicely decorated houses on or just off the stretch of Center Road from Eucalyptus Avenue to Sutro, too, so it's definitely a worthwhile outing.
If you want to visit the Rombeiro house and other amazing Christmas lights in old-fashioned horse-drawn style, Indian Valley Carriages, located in Novato, stops by during their popular Holiday lights tours.
Sign up for tips & news for Marin families!