Back to top
Child and Infant CPR
MarinHealth Medical Center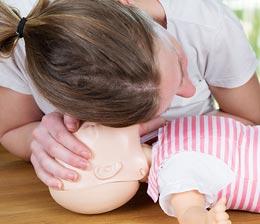 Set to the guidelines and recent recommendations from the Health and Safety Institute (HSI) for Community CPR, this basic life support class is intended for expectant couples, parents, and community members. Taught by a certified CPR instructor from the HSI, this program is intended to convey and demonstrate the recommended lifesaving care that may be necessary at the scene of an emergency, especially one involving the care of a child or infant.
Participants will learn to recognize and treat life-threatening emergencies, including sudden cardiac arrest, heart attack, stroke, foreign body airway obstruction, CPR and resuscitation, and defibrillation with an automated external defibrillator.
Upon completion, participants will test their knowledge and receive an HSI Community CPR Certification Completion Card valid for two years. Please wear comfortable clothing. This is a four-hour class, so you may want to bring a snack and/or beverage.
Cost: $58/individual, $100/couple (includes digital book and certification card).
Call 1-888-996-9644 to register or for more information.