Back to top
Christmas at Kohl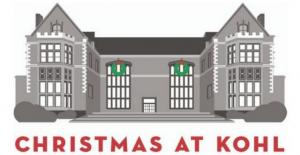 The public is cordially invited to the Mercy High School Alumnae Association's annual Holiday Boutique Christmas at Kohl on Wednesday, December 1st from 5-9PM.
The event will be held at the Kohl Mansion. This Victorian mansion, formerly known as "The Oaks" will be decorated with thousands of twinkling lights, garlands, and Christmas trees all for your viewing and holiday shopping pleasure!
More than 65 vendors will display unique holiday treasures, jewelry, clothing, and holiday decorations. This is a great place to start your Christmas shopping! There will be a docent presentation and history of the historic Kohl Mansion at 6:30PM. 
There will be beverages and light holiday snacks for sale. Tickets are sold at the door. This event is sponsored by the Mercy High School Alumnae Association and a $10 donation is appreciated.  
All of the parking lots on the Mercy campus will be available, as well as the parking lot at Our Lady of Angels Church, which will be used for overflow parking after 5:30PM with a shuttle service every 20 minutes.
Please share with friends and family who might enjoy this event! For questions, please email cfraher@mercyhsb.com or call 650-762-1192.
*We will be following strict COVID protocols: All adult guests and vendors will need to wear a mask and show proof of full vaccination. *Children ages 24 months through 12 years must provide proof of a negative COVID-19 test taken within 72 hours of the event. *Unvaccinated Mercy students will be allowed to show proof of a negative COVID-19 test taken within 72 hours.
$10.
Presented by Mercy High School Burlingame.