Back to top
Corte Madera Larkspur Moms Club Pajama Jam
Corte Madera Parks & Recreation Center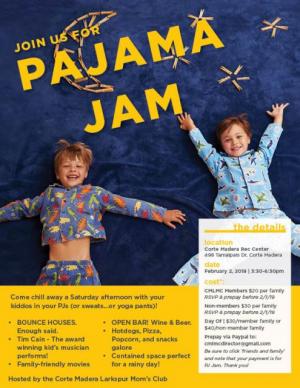 It's time for one of CMLMC's best events of the year:  Pajama Jam 2019!  Join us for an afternoon of pajama jammin, kiddo games, bounce house, a family movie, adult bevs for the parents, pizza/hotdogs, popcorn, and snacks and award winning kids' musician Tim Cain!
COST*:
$20 per Family (CMLMC Members) - who RSVP and prepay before February 1, 2019 
$30 per Family (Non-members) - who RSVP and prepay before February 1, 2019
$30 per member family walk-in/$40 per non-member family wilk-in 
RSVP by clicking "YES" here, and by prepayment to the Club's Paypal account: cmlmcdirector@gmail.com (please be sure to click 'friends and family' and note that your payment is for PJ Jam).  If you are not a club member, the Paypal payment is considered your RSVP.  If you are interested in joining CMLMC, now's the time!  Join before February 2, 2019 and enjoy $10 OFF your membership fee! Head to www.cmlmc.org to sign up and enter discount code PJMEMBER2019.  We have lots of great stuff planned for 2019.
We hope you can join us for this fun Family Night Out!