Back to top
Dance with Miss Anna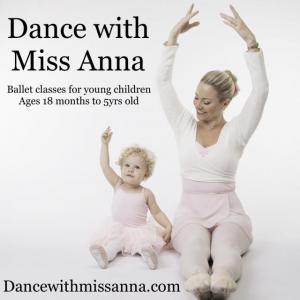 Dance with Miss Anna 
•Ballet (18months to 5yrs) - A precious and imaginative ballet class to enjoy with your little dancer as they are introduced to the basic fundamentals of ballet.
*One participating adult is required for each child age 2 and under.
•Hip-Hop (3yr to 5yr) - High energy hip-hop/jazz class learning stretches, basic dance technique and choreographed dance routines to fun, kid-friendly music. 
*Drop-off class with a "Dance Show" at the end of each class.
Classes are offered on a drop-in basis.
$25 per child /$15 siblings
*No Classes March 8 - March 15*
Class Schedule and Locations:
Sprout Mill Valley
12 Miller Ave, Mill Valley 94941
•Hip-hop - Tuesdays 3:45pm
•Ballet - Tuesdays 4:45pm
•Ballet - Wednesdays 10:00am 
•Ballet - Fridays 10:15am
Homestead Valley Community Center
315 Montford Ave, Mill Valley 94941
•Ballet - Wednesdays 11:30am
Sprout San Francisco
1828 Union Street, San Francisco 94123
•Hip-Hop - Thursdays 3:45pm
•Ballet - Thursdays 4:45pm
For more info and contact, please visit dancewithmissanna.com
About Miss Anna:  
Anna Buxton developed a love for dancing and performing at a very young age and has carried that passion through her entire life. She's enjoyed teaching children all over the Bay Area for over 10 years. 
Anna has danced for the Kilgore Rangerettes (a nationally renowned Texas dance team), the Oakland Raiderettes (Rookie of the year 2009, "most inspirational" Raiderette 2010, Captain 2011, Raiderette of the year 2011, and Pro Bowl Cheerleader 2012), and multiple dance/hip-hop groups in the San Francisco.