Back to top
Family Farm Day - Sheep to Shawl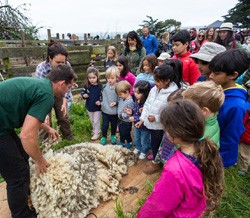 Come meet the newest, adorable additions to the barnyard herd. Learn about wool processing from sheep to yarn and make a wool craft to take home.
Slide Ranch's Family Farm Day is an exciting 3.5-hour program, 9:30am-1:00pm, featuring goat milking, visiting our chickens and ducks, harvesting herbs and veggies in our garden, and hiking spectacular coastal trails. Discover Slide Ranch's feathered, furry, and wooly friends with your whole family. Pack a picnic lunch to enjoy after the program at our picnic tables overlooking the ocean!
Continue your Slide Ranch adventure and add on camping! After participating in farm day activities, pitch your tent at our coastal meadow campsite overlooking the ocean. This is a wonderful opportunity for your family to extend your time enjoying the trails, tide pools, plants and animals of Slide Ranch. Camping is not supported by Slide Ranch staff, so be sure to bring your own food, games and activities. Please depart the campsite by 10am Sunday. If weather conditions permit, a campfire at the main ranch area is possible Saturday night.
Family Farm Day Ticket: $40 per person
Camping Add-on Ticket: $60.00 per person
Children 24mo or under: FREE