Back to top
First Annual Pie Baking Contest–Thursday Marin Farmers Market
10 Avenue of the Flags
Parking Lot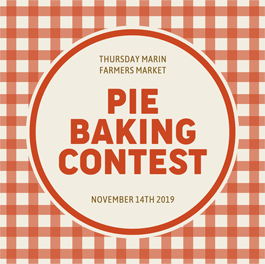 Then this contest might be calling your name! It's time to roll up your sleeves, roll out the dough and bring your best pie to the Thursday Marin Farmers Market. Join us at AIM's first annual Pie Baking Contest, 2019. Bring your homemade pie to the Farmers Market by 11am the morning of November 14th, to enter the pie baking competition. Enter one pie per person. Please include a list of principle ingredients (wheat, nut, eggs – for allergy purposes) title of your pie, your name and phone number, and pie recipe. Pie entries should be prepared in a disposable 9" pie tin using all natural and seasonal ingredients. Pies will be judged on appearance, filling, crust, use of seasonal ingredients, and overall taste.
Adult pie categories:
-Seasonality
-Most original
-Sweet
-Savory
Kids (12 & under) pie categories:
-Any kind
*One winner per category
It's time to show us how you roll! A basket full of market goodies and bragging rights await you. Winners will be announced later that day at the Marin Farmers Market, 12:30 pm.