Back to top
Free Family Zumba Exercise Class
Mill Valley Community Center
Lawn triangle behind the Center
180 Camino Alto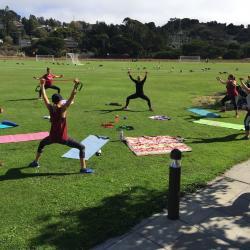 REE Family Zumba @ The Center, 3rd Saturday of each month
Join the dance party!  We take the "work" out of workout, by mixing low-intensity and high-intensity moves for an interval-style, calorie-burning dance fitness party on the lawn.  Once the Latin and World rhythms take over, you'll see why Zumba® Fitness classes are often called exercise in disguise.  Super effective?  Check.  Super fun?  Check and check.  Check in at the Aquatics & Fitness Center front desk.
No pre-registration required
Instructor:  Bea
Location: Class is held at the Community Center, on the lawn triangle behind the Center.
Where:  180 Camino Alto  Mill Valley  Ca  94941
For further information please call 415-383-1370