Back to top
Free! The Iron Giant
San Rafael Film Center--Out front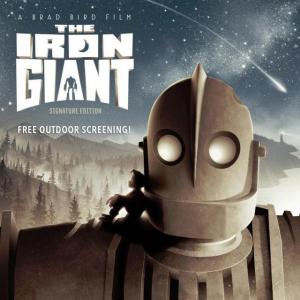 FREE OUTDOOR SCREENING ON FOURTH ST.
IN FRONT OF THE RAFAEL FILM CENTER -
BRING YOUR OWN CHAIR OR BLANKET!
THURSDAY, AUG. 15 • SUNDOWN
The Rafael presents Brad Bird's animated Cold War fable in this beautifully remastered 2015 Signature Edition, projected outdoors for the whole family to enjoy! An adaptation of British poet laureate Ted Hughes' 1968 story, Bird's celebrated interpretation tells the story of a giant alien robot (Vin Diesel) who crash-lands near the small town of Rockwell, Maine in 1957 and forms a friendship with 9-year-old local boy, Hogarth (Eli Marienthal). It will be up to Hogarth and beatnik friend Dean McCoppin (Harry Connick, Jr.) to protect the robot from Kent Mansley, a paranoid government agent determined to destroy the misunderstood machine.