Back to top
Halloween @ the Center
Mill Valley Community Center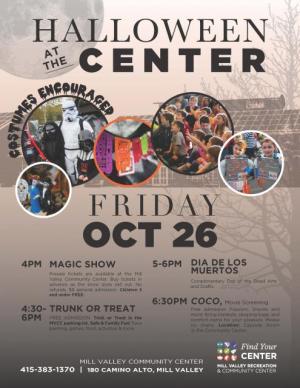 It is a fun, free event for the community where families come to the community center to enjoy a Halloween Magic Show, followed by complimentary Day of the Dead Treats, then head to the parking lot and "trick-or-treat" from decorated car trunks, ending with the movie "Coco". Free music, activities, face-painting for kids and more!
4:00pm Magic Show
4:30 – 6:00pm Trunk or Treat
5:00 – 6:00pm Dia de los Muertos Arts & Crafts
6:30pm – Movie Showing in Cascade Room of Coco 
For more info please visit: http://www.millvalleyrecreation.org/special_events/community_events/hall...