Back to top
Holiday Tea with Crown & Crumpet
Marin Art & Garden Center
30 Sir Francis Drake Blvd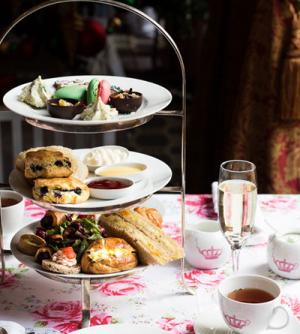 Visit The Shop for an elevated Afternoon Tea experience featuring seasonal ingredients and classic British holiday recipes, presented by Crown and Crumpet.
For children 11 and younger, there is a a Holiday Nursery Tea that includes all the delicious treats plus an age-appropriate holiday craft; our Friday afternoon Special Children's Holiday Tea will also feature surprise guests and fun for families.
Tickets are $95 for adults, $55 for children 11 and under.
A percentage of your ticket sale goes to Marin Art and Garden Center!
Holiday Tea is available on Saturdays and Sundays, December 4–5; 11–12; 18–19, and every day from Monday, December 20 to Thursday, December 23. There are three seatings each day: 11 am, 1:30 pm and 4 pm. The Special Children's Holiday Tea is at 3:30 on Fridays, December 10 and 17.
You won't want to miss the delightful browsing at The Shop, where in addition to the array of books, puzzles, decor and more, you'll have a special Crown & Crumpet selection of British and other items that Amy has hand-picked to make your holiday bright.