Back to top
Marin County Fair 2022
10 Avenue of the Flags
off Highway 101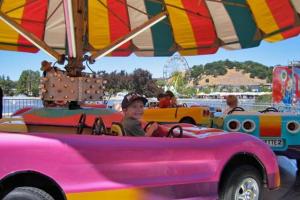 The Marin County Fair returns for 2022, an outdoor-only event with the theme So Happy Together! from June 30 through July 4, 2022.
The 2022 fair will focus on outdoor headline entertainment, performers roaming the grounds such as jugglers, unicyclists, and stilt walkers, and interactive art experiences for fans of all ages. Returning fair favorites will include traditional carnival rides, the Global Marketplace, food and drinks, and fireworks over the Civic Center's Lagoon Park. The always-popular competitive exhibits program will take place online as it did in 2021.
The So Happy Together! artwork was designed by Marin County artist Raul Del Rio specially for the 2022 fair. The painting joyously illustrates the Marin County Fair's core values of art, agriculture, and community while also celebrating the spirit of togetherness, inclusivity, diversity, and fun.
General Admission Tickets
available during the Fair June 30 – July 4:
$25 adults and teens
$20 seniors 65+ and children ages 4-12.
Children under 4 are free.
Active duty military – FREE admission
$20 Veterans with ID