Back to top
Glowfari at Oakland Zoo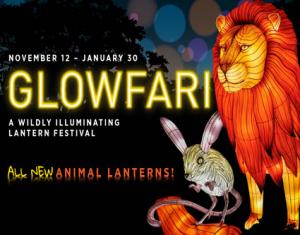 Extended through March 4, 2023!
Glowfari is an unforgettable experience for all ages to enjoy! Featuring hundreds of larger-than-life glowing animal lanterns throughout the Zoo; and with all-new animals displays for 2023! Take a mile-long illuminated stroll through the Zoo and visit the desert with camels and bighorn sheep, have an African safari adventure with elephants, giraffes, and an 8-foot crocodile head, walk through the rainforest to meet red and giant pandas - and of course ride the gondola to the land of bugs featuring a 65-foot Queen Ant Tunnel!
This year's experience features new displays including a walkabout through the land down under with kangaroos and koalas, icons of the California coastline including whales, otters, and jellies, exotic animals of the tropical rainforest, and a trip to the past with a towering t-rex and a megalodon shark tunnel!
Finish your experience with a ride on the train through a fantasy wonderland full of fabled creatures like fairies, unicorns, and more mythical beasts!