Back to top
Marin Music Chest Scholarship Winners Concert
San Domenico School Hall of the Arts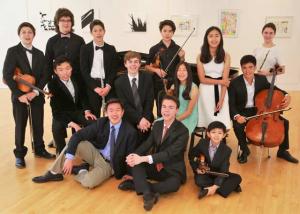 Marin Music Chest 2018 Scholarship Winners Concert
After more than 80 years, Marin Music Chest plays on, supporting promising students studying classical music. Marin Music Chest presents its annual "Scholarship Winners Concert," 2:30 p.m. Sunday - May 6, 2018 at San Domenico School Hall of the Arts, 1500 Butterfield Road, San Anselmo. The free concert is open to the public and showcases the talents of 14 young classical musicians honored with 2018 Marin Music Chest Scholarship awards.
The concert will feature musical performances by 2018 Marin Music Chest award recipients Elek Yozie (viola) of Mill Valley; Dheyan Lim (violin) of Mill Valley; Sophie Liu (violin) of Greenbrae; Morgan Hunt (vocalist) of Tiburon; Katharine Vari (piano) of Tiburon; Maya Stock (flute) of San Anselmo; Lorenzo Soleri (violin) of Mill Valley; Benjamin Wu (cello) of Bevedere; Caleb Liu (piano) of Greenbrae; Benjamin Wall-Feng (piano) of Mill Valley; Art Zhao (piano) of Novato; Chase Olson (piano) of San Rafael; Chris Boyadjiev (flute) of Novato; and Joshua Selig (vocalist) of Mill Valley.
Marin Music Chest is a private, non-profit organization staffed by an all-volunteer Board of Directors with an extensive musical background and an Artistic Council with professional backgrounds in music. Marin Music Chest has been dedicated to fostering a greater interest and appreciation of classical music in Marin since 1933 and has supported young classical musicians living in Marin County with annual scholarship awards and performance opportunities.
WHEN:     2:30 p.m. Sunday May 6, 2018
WHERE:  San Dome nico SchoolHall of the Arts
1500 Butterfield Road, San Anselmo 94960
Follow signs from main parking lot to the Hall of Arts
COST:     Free
PHONE:     415-897-7772
WEBSITE:  www.marinmusicchest.org