Back to top
Mark Day School Presents Seussical, Jr.
Showcase Theater San Rafael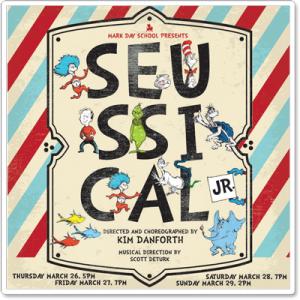 Mark Day School Presents Seussical, Jr.
"Oh, the thinks you can think" when Dr. Seuss' best-loved characters collide and cavort in an unforgettable musical caper!  Horton the Elephant, the Cat in the Hat and all of your favorite Dr. Seuss characters spring to life onstage in Seussical Jr., a fantastical musical extravaganza from Tony-winners, Lynn Ahrens and Stephen Flaherty. Join Horton the elephant, Gertrude McFuzz, and the Cat in the Hat in a madcap musical extravaganza that soars through the limitless imagination of Dr. Seuss. Seuss' timeless tales leap from page to stage as the colorful characters transport us from the tiny land of Whoville to the Jungle of Nool. 
Performance Dates:
Thursday, March 26 at 5:00 pm
Friday, March 27 at 7:00 pm
Saturday, March 28 at 7:00 pm
Sunday, March 29 at 2:00 pm
Tickets: $15 General Admission (Plus $3 in fees); $32 Skylion (Plus $4 in fees). Purchase tickets here.