Back to top
MPOMC Annual Consignment Sale for Children & Maternity
Marin Catholic High School
: 675 Sir Francis Drake Blvd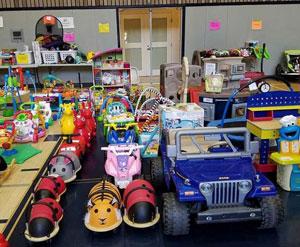 Back and better than ever! Marin's largest consignment sale for infant and kids clothing, gear, and toys. Maternity too!
Marin Parents of Multiples Club (MPOMC)  provides an annual community marketplace where families can sell their children's outgrown items for cash and buy items their kids need at 50-90% off retail.
When shopping at our sale you'll find only the best kids' items - all items are inspected upon check-in to be sure that they are clean, without stains, and in working order.  All items are organized into a store-like format so that it is easy to shop and find the sizes and types of products you are looking for.
Thousands of items available, including:
Children's Clothing (infant through pre-teen sizes)

Children's Shoes

Maternity Clothing

Infant Care Items (diaper pails, bottles, nursing items, baby monitors)

Kid Furnishings (cribs, changing tables, room decor, furniture, pack-n-play)

Toys & Play Equipment (large, small, indoor, outdoor)

Books, DVDs, Games

Arts & Crafts (party supplies, arts/crafts)

Strollers & Car Seats

Sporting Goods (including snow/ski clothes)

Halloween costumes
Interested in selling? Find out how you can sell your items on our Sale page. 
Sell all items in one safe, clean, organized space. Consignors get up to 80% back on their items.
Sign up today and start tagging!
Interested in donating? Don't have time to tag your items? You can drop them off at the sale for donation and we'll donate proceeds to our community outreach program for local families in need. Some of the organizations supported include Canal Alliance, Head Start Marin, Marin Child Care Council, and Marin Pregnancy Clinic.
No need to register if you just want to donate – drop off the items at Marin Catholic during drop-off items on June 2nd or 3rd. If you are unable to drop off donations at this time, email sale@mpomc.org for alternate donation instructions.  Donations are tax-deductible to the extent allowed by law; check with your tax advisor.
About Marin Parents of Multiples Club:
MPOMC is a volunteer-run, non-profit organization whose mission is to provide educational, social, and emotional support to parents of twins and triplets (and sometimes more!) before their children are born, as well as during the critical months and years that follow, while also contributing to the larger community by providing basic baby necessities to families with multiples who are in need.