Back to top
New Exhibit: My Sky
Bay Area Discovery Museum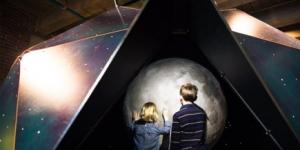 The phenomena of the night sky may seem far away, but interactive activities can bring them within reach! At BADM's new traveling exhibit, My Sky, families can have fun and learn something new as they explore far-off wonders like the Sun, Moon, and stars right here on Earth.
My Sky was produced by Boston Children's Museum in collaboration with Smithsonian Astrophysical Observatory and NASA. The exhibit encourages visitors to have fun becoming active "doers" of science, as they sharpen their observation skills, make predictions, and notice patterns!
This exhibit is free for BADM members and included in the price of museum admission.