Back to top
Nicasio Valley Pumpkin Patch
Nicasio Valley Pumpkin Patch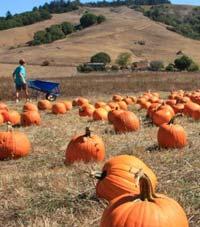 Located in the small west Marin village of Nicasio, the farm is just west of the Nicasio Village Square right on Nicasio Valley Road. Nicasio Valley Pumpkin Patch is open seven days a week through Halloween from 10 am to 6 pm weekends and 10 am to 4 pm during the week, and it's always worth a visit. It's been a Marin County tradition for over 20 years!
Nicasio Valley Pumpkin Patch offers a wide variety of pumpkins spread out in an expansive meadow on the farm. Pumpkin varieties ranged from your standard Halloween jack-o-lantern types to white ones, green Italian and Australian varieties, and flat European "Cinderella" style squash. The farmstand also offers of gourds, squash, and decorative cornstalks, apples, as well as drinks and snacks. Pumpkins range in price from $5 to $40.
Like many Halloween pumpkin patches, Nicasio Valley offers the obligatory jumpy houses and inflatable slide. There are also hay rides, pony rides, a petting zoo, farm animals to visit, a climbing wall, face painting and Steve the Sandman. Some of these attractions have an admission fee, and some are available only on weekends and select days. 
Admission is Free, Pumpkins are Priced Individually