Back to top
Parent's Night Out: Pirates vs. Ninjas at Marin MMA!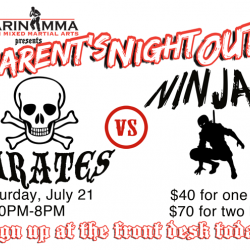 Parents get to relax after they drop off their children at Marin MMA's Parent's Night Out! Our PNO is the perfect combination of martial arts, action, adventure, prizes, pizza, and games -- all in one night! These events are are open to the public, so take advantage of our beautiful facilities and highly trained staff to take the night off.  This Parent's Night Out has a special Pirates vs. Ninjas theme, so we will play tons of team games with a special prize to the winning team at the end (and a few goodies for everyone to take home!).
To sign up, just call 415-456-1557 and we can take payment over the phone or come down in person and we can sign you up at the front desk.  For new families, we will email you a copy of our waiver to be signed before the child can be allowed onto the mat.  Kids should wear comfortable clothing that they can stretch and move around in: just no metal, zippers, or jeans on the mat.  If your child does not eat pizza, they are welcome to bring a meal of their own.  Always feel free to call or email us at info@marinmma.com for more details or any other questions you may have!
If you would like to see our facilities before signing up, you and your family are more than welcome to try a free class.  Just sign up by visiting our website here: http://www.marinmma.com/about/free-trial/ . 
We look forward to seeing you and your kids on the mat soon!