Back to top
Playland Free Play Friday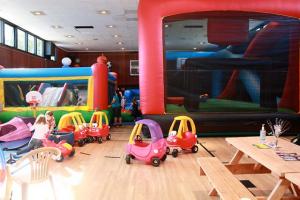 This is a drop-in free play program. Advance registration is required. Family members, nannies, and guardians are permitted to be inside with the participant.
Playland is an amazing full size Indoor Jumpy House Playground. We offer fun play cars, hippity hops, basketball hoops, ping pong tables and plenty of balls to play games and catch. We also have a new play floor for kids with interactive colors. The kids will have free time to play with any materials for 90 minutes of fun! 2 sessions on Fridays: 9–10:30 am and 10:30 am–noon.
All programs follow strict State and County safety guidelines.
-Up to 30 kids.
- Kids and adults are required to wear masks and sanitize hands.
- The MLK Gym is equipped with exhaust fans and upper level windows to create fresh air through the building.
- Food or drinks are not permitted at this time. Bottled water is fine.