Back to top
Rombeiro Christmas House in Novato
34 Devonshire Drive (off Center Road)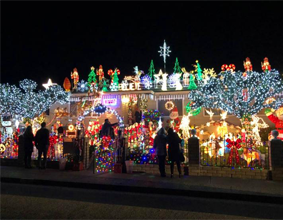 Perhaps our favorite thing about the holiday season is visiting amazing lighted and decorated holiday houses here in Marin.
With 140,000 lights, the Rombeiro House is a legendary holiday decoration tour-de-force, and truly has to be experienced in person to be believed. This is the only holiday house that we know of where you can actually tour the inside of the home, too. The Rombeiros welcome tens of thousands of visitors every year, and even hand out candy canes. If you can only visit one holiday house, this one might be it! The Rombeiro House will be featured on the ABC TV show The Great Christmas Light Fight on Monday, December 16, at 9 pm, so be sure to tune in and see if they won!
When you're visiting, feel free to drop a donation into the donation box, if there is one, since that December PG&E bill is probably a whopper. (Rumor has it that it costs upwards of $4,000 each season!)
The Rombeiro House is located at 34 Devonshire Drive (off Center Road) in Novato. It's open daily from Saturday, December 7 through January 6 from 6 to 10 pm every day (including Christmas and New Year's Day). Read about our visit here.