Back to top
Storybook Characters: Clifford
Bay Area Discovery Museum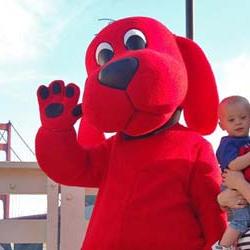 This summer, your child's favorite storybook characters are coming to the Bay Area Discovery Museum! On Saturdays and Sundays from June-August, costumed characters will be on-site for meet-and-greets, daily story times, photo opportunities and visits with children. Kids will have the chance to see their favorite imaginary characters brought to life, while enjoying an engaging literary experience! The schedule for each character visit is:
Meet and Greets: 10 – 10:45 a.m, 11:15 – 11:45 a.m, 12 – 12:45 p.m., 1:15 – 1:45 p.m.
Story Times: 11 – 11:15 a.m. and 1 – 1:15 p.m.
Want to celebrate your child's birthday with their favorite storybook character?
Host a birthday party at BADM during one of our Storybook Character visits! Learn more about birthdays at BADM.
Clifford
Saturday, July 21 and Sunday, July 22
Saturday, July 28 and Sunday, July 29
The Cat in the Hat
Saturday, August 4 and Sunday, August 5
Saturday, August 11 and Sunday, August 12
Paddington Bear
Saturday, August 18 and Sunday, August 19
Saturday, August 25 and Sunday, August 26