Back to top
Tinker Tot Tuesdays at Little Tree Studios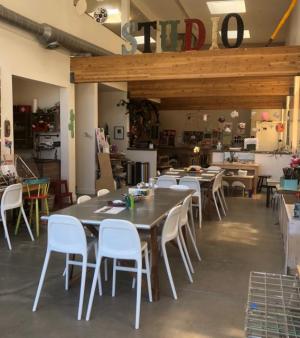 Our Tinker Tot Studio is designed for budding Little Artists ages 2.5-5yrs to join with an adult, to experience and learn about art through play and experimentation. We believe art is a experimental learning process, so we offer all our Little Artists in our studios introductions to use ALL  the materials; beads, scissors, glue, glitter and paint!  Please dress appropriately and be ready to support your child in the opportunity to use these exciting,  and sometimes messy materials. -Theres no better place to learn how to cut with a scissors, squeeze glue, or hold a gooey paint brush than here! 
Our classroom environment is set up to inspire wonder and curiosity.  Early art experiences also give Little Artists a way to establish their fine motor skills, strengthening their grip and their mid-line while they draw and paint- which is an important developmental skill that leads to writing.  Little Artists will also develop their tactile/sensory  levels.   And the best part is you get to leave the mess with us!
*Please keep in mind your child's developmental growth stage may be different then others in the class and as they are coming into learn, touch and play with the materials and that they will experiment at their own pace.
* Please call to see if there is space if you are planning to do a drop in !!!!   Its $25 at the door, cash or check. There is a discount if your purchase a month block!