Back to top
Western Railway Museum Pumpkin Patch Festival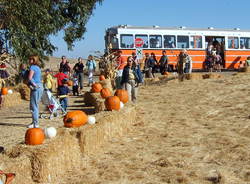 The Western Railway Museum in rural Solano County holds its celebrated Pumpkin Festival every Saturday and Sunday from October 12–27. Ride a vintage electric express train to the pumpkin patch at Gum Grove Station for pumpkins, tractor rides, games, music, a hay fort, a pumpkin launcher, and pumpkins for sale, of course. Admission is $14 for adults, $12 for seniors 65+, and $10 for children 2–14. Admission includes museum entry, unlimited train rides, picnic area use, and parking.
The museum opens at 9:30 AM and the first train to the Pumpkin Patch departs at 10:00 AM. Trains run at 30 minute intervals, with the last train from the Pumpkin Patch at 4:30 PM.
Tickets: Adults (15–64) $14, Seniors $12 and Child (2–14 yrs) $10. Purchase your tickets here.