Back to top
Wheel Throwing - Thursday 5:00-6:00, ages 6-14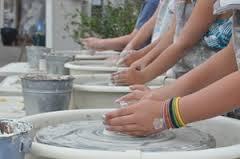 Clay, Ceramics + Pottery: We LOVE clay! With a rich curriculum, this class allows for challenging and exciting exploration. Working with the slab roller, wheel throwing, and learning about how to build with clay, students will begin a portfolio of amazing ceramics. Each week a new project that highlights new techniques will be shared. This class is the perfect match of design thinking, STEAM education, creativity, and hands on educational fun. Mid fire earthenware is used in at S4A to create works that have strength and are food safe. We have been teaching ceramics for over 17 years and can't wait to share some amazing projects with our students.
Sign up with a friend and have the best educationally fun play date every week!
This class is a beginner and intermediate class.
Thursday: 5:00-6:00, ages 6-14