Back to top
Yerba Buena Ice Skating–San Francisco
Yerba Buena Ice Skating and Bowling Center
750 Folsom Street
Between 3rd & 4th Streets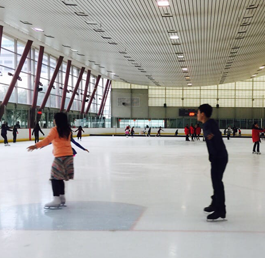 Yerba Buena Ice Skating Center is San Francisco's only year‑round, full‑service ice skating facility; we are open daily, including holidays, with public skating available almost every day of the year (there are a few days during the year when we have tournaments or competitions and public skating may be limited or not available, please see the schedule below). Prices are for one session, see our schedule below.
We are a large NHL sized skating rink; consequently, we do not sell out.  We start selling admissions approximately 15‑minutes prior to the session start time.
Cost: General $13, Toddler $8 (age 5 and under and includes skate rental).
Skate rental is $6.