Back to top
Celebrate the Holidays in Victorian Style at the Great Dickens Christmas Fair
Under colorful swags of Union Jacks and boughs of holly, the Great Dickens Christmas Fair and Victorian Holiday Party returns for five weekends to the historic Cow Palace in Daly City this November and December. The family-friendly holiday fair takes place on Saturdays and Sundays (as well as the Friday after Thanksgiving, November 29) from November 23 through December 22, 2019, and offers visitors a delightfully immersive holiday experience unlike any other.
An annual Bay Area tradition for over 30 years, the Great Dickens Christmas Fair features 800 Victorian characters, from waltzing royals to scrappy chimney-sweeps, who populate over three acres of twilight-lit shops, pubs, stages, and dance halls. At the Dickens Fair, it's always Christmas Eve in 19th-century London, and this year's event celebrates the 200th birthday of Queen Victoria!
The Great Dickens Christmas Fair includes seven stages offering entertainments for all ages and tastes. Family-friendly fare includes the Victoria & Albert Bijou Music Hall, where families will enjoy a splendid Christmas Pantomime with Baron Munchhausen and Mopsa the Fairy, the Royal Opera Gala, Music Hall Singers, and Gilbert and Sullivan's operetta Trial by Jury. New this year, the Crummles Theatrical Company presents Sherlock Holmes and The Giant Rat of Sumatra, the greatest unwritten mystery of Holmes' career and a farce of murderous proportions. Families can also take part in hands-on craft activities, old-world games of skill and chance, and lively interactive shows.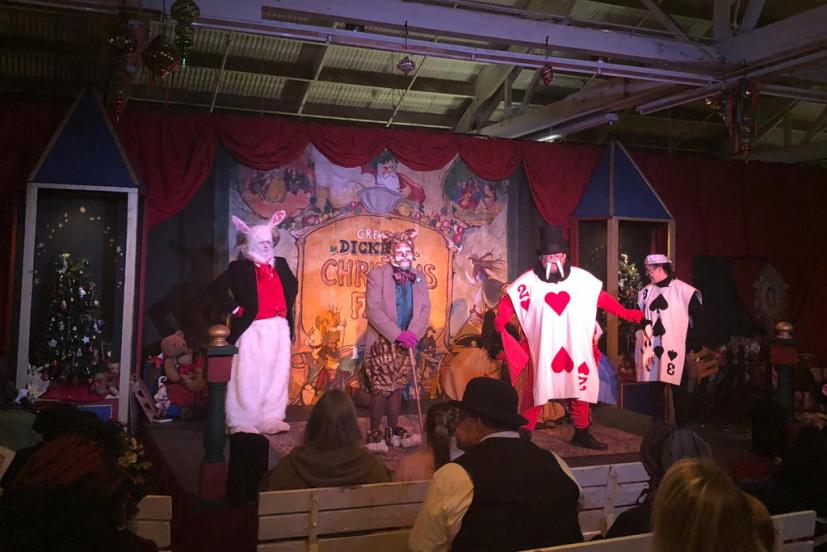 The Tinsley Green Children's Area and Father Christmas Stage will entertain and delight; youngsters can meet Old Father Christmas, ride on a hand-powered Adventure Carousel, have tea with characters from Alice in Wonderland, and laugh at the antics of an authentic British Punch and Judy puppet show. Kids can also construct a whimsical Fairy House, learn how to run an 1860s printing press, sing sea chanteys, make rolled beeswax candles, and hand-paint their own ceramic ornaments.
The fair also features delicious foods from the British Empire and beyond, from pub fare like fish and chips to handcrafted chocolates and tea cakes. You can also enjoy a traditional English high tea with scones and finger sandwiches.
The fair takes place November 23, 24, and 30 and December 1, 7, 8, 14, 15, 21, and 22, 2019; hours are 10 am to 7 pm. General admission to the Great Dickens Christmas Fair is $32 for adults and $14 for children aged 5 to 12. Twilight tickets, for admission after 3 pm, cost $20 for adults and $10 for children. Children under 5 are always free. Parking costs $12 per car; a free shuttle operates from the Glen Park BART station. The Cow Palace is located at 2600 Geneva Avenue in Daly City. For more information, online tickets, and a full schedule of entertainment and events, visit dickensfair.com.
Sign up for tips & news for Marin families!