Back to top
Classic Coconut Mini Cupcakes for Easter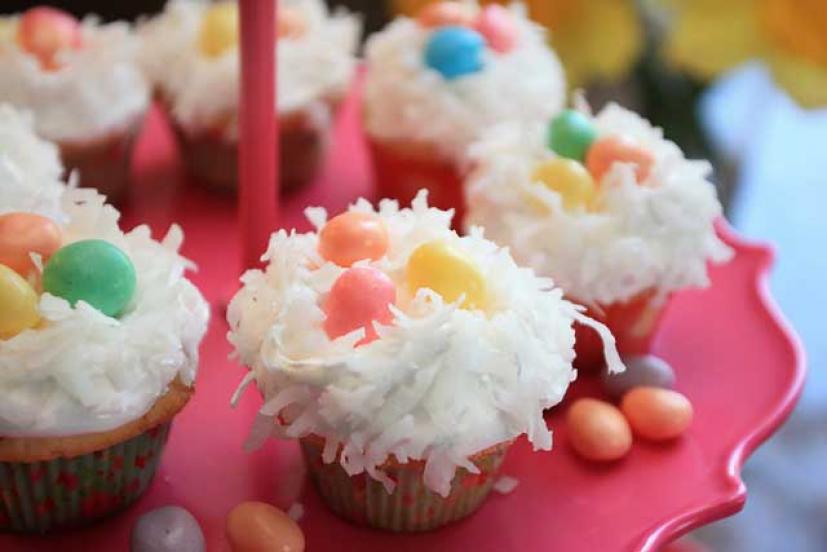 Old fashioned coconut cake is an Easter favorite. We decided to give this classic treat a kid-sized spin and made a fun mini cupcake version.
These light and sweet little cakes with a marshmallow-like frosting are great for parties, playdates, and get-togethers, and of course as dessert on Easter! Sure, you can use fresh toasted coconut on the outside, but we love the old-school white flaked sweetened coconut from the grocery store's baking aisle.
This recipe makes about three dozen mini cupcakes. You can use it to make regular-size cupcakes, too, but of course you'll need to increase the baking time by a few minutes.
Ingredients
For the cake
1 cup (2 sticks) butter, at room temperature
2 cups white sugar
4 large eggs
3 cups all purpose flour
4-1/2 teaspoons baking powder
1/2 teaspoon salt
1 cup canned unsweetened coconut milk
1 teaspoon vanilla extract
For the frosting
1-1/2 cups sugar
1/4 teaspoon cream of tartar
1/4 teaspoon salt
1/3 cup water
2 large egg whites
1-1/2 teaspoons vanilla extract
Sweetened flaked coconut for topping
Jelly beans for decoration
To make the cake, preheat your oven to 350ºF. In your electric mixer, cream butter with the paddle attachment until it's light and fluffy. Add sugar and keep creaming for another 6 minutes. Now add eggs, one at a time, beating well after adding each one. Add flour and coconut milk alternately, then add vanilla and beat until everything is just mixed.
(I actually used Trader Joe's coconut cream, which is a thicker kind of coconut milk, and worked perfectly fine. In fact, I thought it gave the cakes a richer coconut flavor.)
Fill paper mini cupcake cups three-fourths of the way up with batter. Bake for 12 to 14 minutes or until a toothpick inserted in the center of a cupcake comes out clean. Let cool a few minutes, then remove from pan and cool on a wire rack.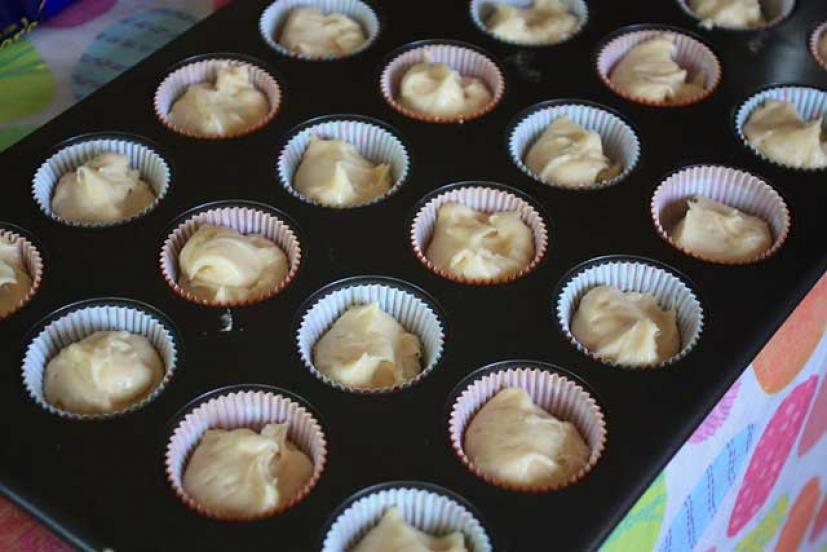 While cupcakes are cooling, make the frosting. This frosting is amazing—it's not your usual buttercream icing, but more like marshmallow topping. Mix sugar, cream of tartar, water, egg whites, and salt in the top of a double boiler. (You can also set a heatproof glass bowl over a saucepan of boiling water. Make sure the top of the double boiler does not touch the water.) Place over boiling water and beat ingredients with an electric hand mixer on high speed continuously for 7 minutes. At the end, beat in the vanilla extract.
Frost each cupcake, then sprinkle with coconut flakes. Top each cupcake with a few jelly beans, if desired.
Sign up for tips & news for Marin families!