Back to top
Favorite Christmas Cookies: Pfeffernüsse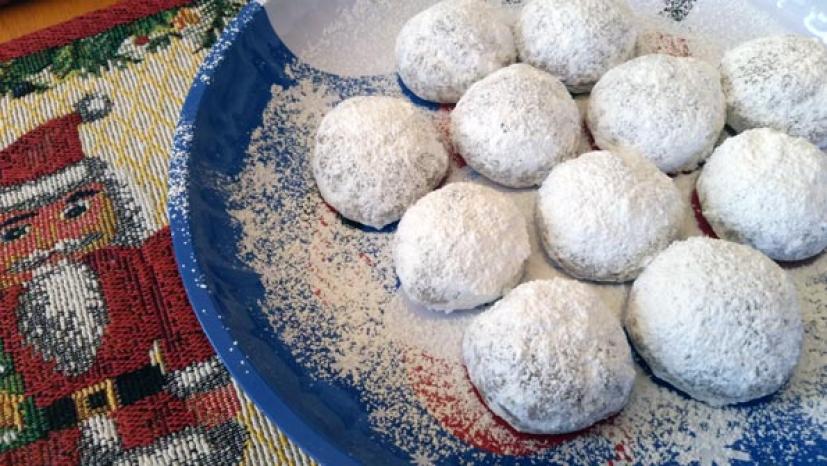 I've always loved these little German spice cookies, and, after years of buying the ones from Trader Joes, I decided to try making them. They're really quite easy to make and even more delicious than the ones from the store.
The addition of black pepper may seem a little weird, but that's where the cookie gets its name (Pfeffer is the German word for pepper). It makes the cookies slightly spicy and helps accentuate the other spice flavors.
Using fresh ground spices makes a big difference—I have a small coffee grinder that's dedicated to grinding spices for recipes like this.
Ingredients
2-1/4 cups all-purpose flour
1–2 cups powdered sugar
1/2 tsp ground black pepper
3/4 tsp ground cinnamon
1/2 tsp ground anise seed
1/2 tsp ground allspice
1/4 tsp ground nutmeg
1/4 tsp ground cloves
1/2 teaspoon kosher salt
1/4 tsp baking soda
1/2 cup (1 stick) unsalted butter, softened
3/4 cup firmly packed dark brown sugar
1/4 cup molasses
1 large egg
1/2 tbsp vanilla extract
Directions
Preheat your oven to 350ºF. Line two baking sheets with parchment paper and set aside. Put 1 cup of powdered sugar in a paper lunch bag or 1-gallon plastic storage bag. Set all this stuff aside while you make the cookie dough.
In a medium bowl whisk together flour, spices, salt, and baking soda. In a large mixing bowl beat together butter, brown sugar, and molasses with an electric mixer until light and fluffy. Beat in egg and vanilla.
Now add the flour and spice mixture bit by bit with your mixer running at low speed until all ingredients are just combined.
Roll tablespoons of dough into small balls. Place on prepared baking sheets about 2 inches apart and back until golden and slightly cracked on top, about 11–15 minutes (mine were perfect at 13 minutes). You'll want to rotate the baking sheet about halfway through.
Move the baking sheets to a wire rack and let cool for a few minutes. Transfer cookies in batches to the bag with powdered sugar and shake until they're well coated. Add more powdered sugar to the bag as needed. You can also sift some more powdered sugar over the finished cookies.
Makes approximately 3 dozen Pfeffernüsse.
Sign up for tips & news for Marin families!