Back to top
Homemade Hummus is Easy to Make, Delicious, and Healthy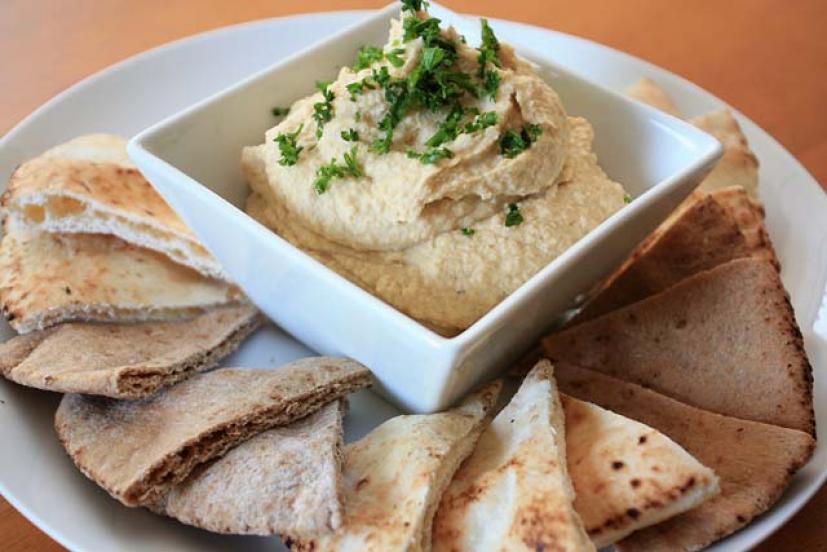 Once something found mainly in health food stores and Middle Eastern restaurants, hummus is now a mainstream snacktime staple available in every local supermarket. I've found most of the grocery store versions of this garlicky, lemony garbanzo bean purée to be uninspired and not all that authentic, but fortunately it's really easy to make your own hummus at home, and we make sure to have the ingredients on hand for whenever a hummus craving hits!
My kids love hummus (my daughter's been a certified hummus fanatic since she was a toddler), which is fantastic, since it's both tasty and healthy. I like to serve it with homemade whole wheat pita chips, but it's also great with carrot sticks and other dippable veggies. I even pack it into my kids' school lunches. This recipe involves no cooking, and the kids can help out with it, too.
I make this with good quality canned garbanzo beans, but you can of course cook dried ones too and use those. Sesame tahini is usually available at health food stores or in the nut butter aisle of markets like Whole Foods. It's a peanut-butter-like paste made from sesame seeds and a must-have ingredient in hummus. Make sure you stir it thoroughly before using as the oil seperates.
Ingredients
2 14-ounce cans garbanzo beans (chickpeas), drained
1/2 cup sesame tahini (or to taste)
Juice of 2 lemons
1–2 garlic cloves, finely chopped
2 tablespoons olive oil
Salt and freshly ground black pepper
Directions
Place all ingredients except salt and pepper in the jar of your food processor and puree until smooth. If hummus is too thick add a little water. Hummus should be creamy and taste of lemon, garlic, and sesame. Taste and add a little more of each ingredient if you think it needs it. Add salt and pepper to taste.
Garnish with chopped parsley, paprika, or a drizzle of olive oil, if desired. Serve with pita bread wedges, vegetables, or pita chips (recipe follows).
Homemade Pita Chips
These are much less expensive and much better than the bagged pita chips you get from the store, and really easy to make. To make them, you'll need:
Pita bread
Extra virgin olive oil
Sea salt
Preheat oven to 400ºF. Cut fresh pitas into wedges (you'll get six to eight from each pita). I like to use a combination of whole wheat and white pitas.
In a large bowl, toss pita wedges with olive oil, then spread them on one layer of a large baking sheet. Back for 10–15 minutes or until pita chips are crisp. Sprinkle with sea salt when they come out of the oven.
Sign up for tips & news for Marin families!