Back to top
Easy and Delicious Slow-Cooker Corned Beef and Cabbage for St. Patrick's Day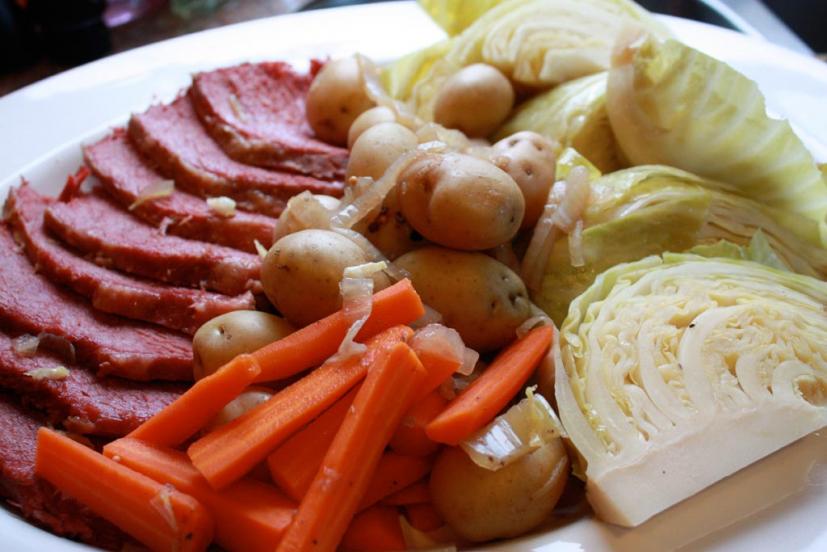 St. Patrick's Day is coming up, and for many that means it's time to cook that quintessential Irish-American dish: corned beef and cabbage. Corned beef—usually a tough cut of meat like brisket or round—requires long, slow, cooking over low heat to make it tender, so it's the perfect candidate for preparing in your slow cooker.
Start your corned beef in the slow cooker early in the day; there's a minimal amount of preparation involved. Some recipes call for adding most of the vegetables at the same time, but I think they turn out a bit overcooked. Instead, add them to the pot during the last two hours of cooking.
With the proliferation of vegetables cooked with the meat, there's something here for everyone in the family. Serve your corned beef accompanied by grainy mustard, horseradish sauce*, and gravy** made from the cooking liquid. Also, when it comes to corned beef, bigger is better. Much of the weight of the meat is water, and it shrinks in size during cooking, so budget about one pound of meat per diner for a generous serving and leftovers (think corned beef sandwiches… mmm…). This recipe serves about 4 people, depending on how hungry everybody is.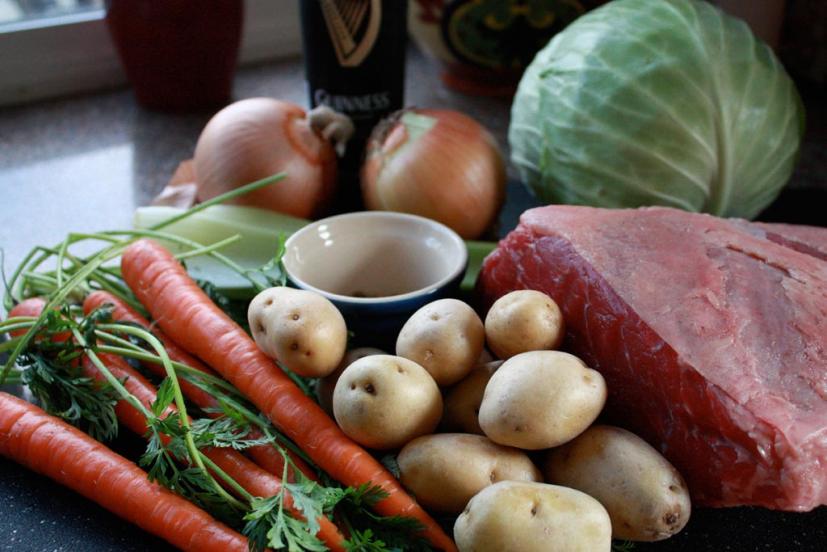 Ingredients
1 3.5–4 pound corned beef round or brisket
1 large onion, thickly sliced
1 stalk celery, thickly sliced
1 12-ounce bottle Guinness stout or other dark beer or ale (optional)
Water
Spice packet from the corned beef
4 medium carrots, peeled and cut into large chunks
1 pound new potatoes (left whole if tiny, quartered if larger)
1 head green cabbage, cut lengthwise into four six sections, depending on the size of the cabbage (make sure leaves are held together by a section of core so it doesn't fall apart while cooking)
Directions
Unwrap corned beef and rinse; pat dry with paper towels. We like to get corned beef round if we can. It's a little more expensive than brisket, but it's less fatty and gristly so you get more edible meat out of it. Put sliced onions and celery at the bottom of your slow cooker, then sprinkle the corned beef spices over. Place corned beef on top of onions and celery. Pour Guinness over, then add water so that beef is nearly covered.
Cook in the slow cooker on low for 6 to 8 hours or until tender. You can also make this on the stovetop in a Dutch oven, in which case you'll want to decrease the cooking time to about 4 hours, or about 1 hour per pound.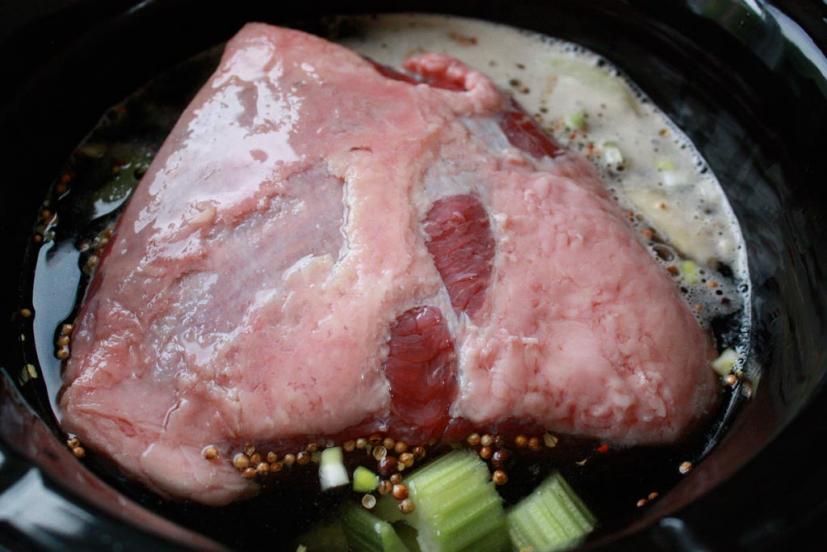 Remove meat from cooker, cover with aluminum foil and set aside (it should stay warm, but you can put it in a 250º oven to keep warm, too). Add carrots, potatoes, and cabbage to the cooker, turn to high, and cook for 45 minutes or until vegetables are cooked.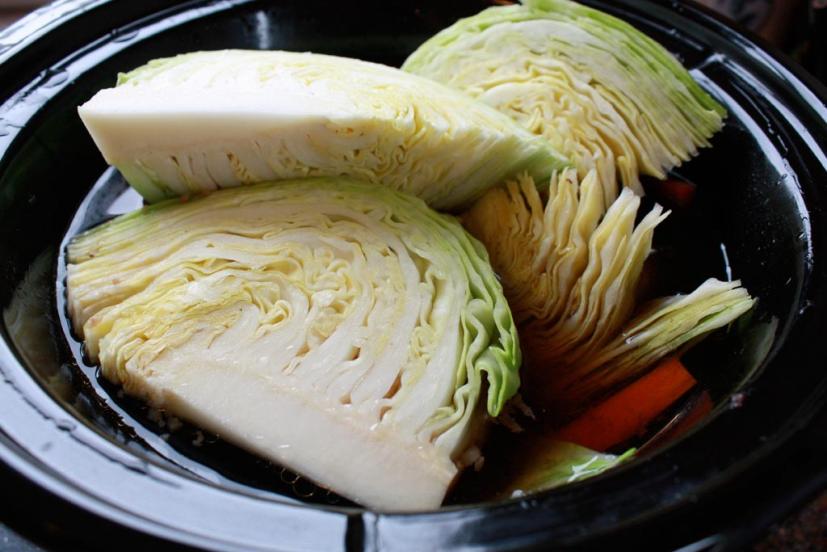 Trim excess fat off the corned beef, then slice across the grain and arrange on a warm platter with vegetables. Ladle a little cooking liquid over the corned beef slices and bring to the table. Everybody will cheer!
*For horseradish sauce, whisk together 1/2 cup of sour cream and 3 tablespoons mayonnaise in a bowl. Add prepared horseradish to taste, depending on how hot you like it. Stir in a tablespoon of fresh lemon juice and season with a little kosher salt and freshly ground black pepper.
**To make gravy, melt 2 tablespoons unsalted butter over medium heat in a saucepan, then add 2 tablespoons all-purpose flour. Whisk flour and butter together to make a roux, and cook for a few minutes to gently toast the flour. Slowly whisk in 2 cups of strained corned beef cooking liquid until it's all incorporated. Bring to a boil then turn heat down and simmer for 10 minutes. Serve in a gravy boat alongside corned beef and cabbage.
Sign up for tips & news for Marin families!