Back to top
Strawberry Rhubarb Crumble Bars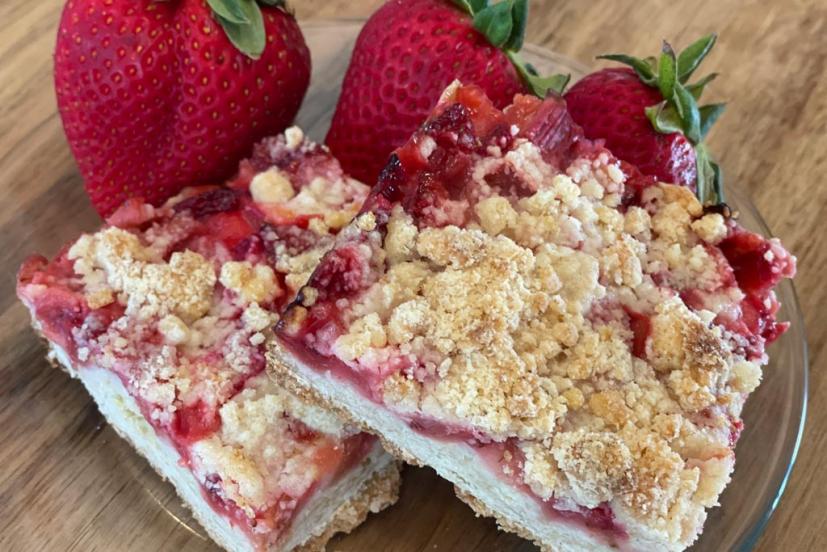 Whenever I go to the farmer's market or supermarket these days, I can't resist buying some of the amazing organic strawberries that are in season right now. When you walk by and catch a whiff of that sweet strawberry aroma … well, they're really hard to resist, aren't they? Needless to say, I love looking for things to make with strawberries, and one of my favorites is strawberry rhubarb crumble. This comforting and delicious dessert pairs two of spring's most delicious offerings, with the sweetness of the strawberries complemented by the tart rhubarb.
A fantastic variation on the classic crumble are these crumble bars, which are kind of like a lemon bar but with a strawberry rhubarb filling and crumble topping. They're just as delicious as their fruit crumble sibling and easy to serve and store.
Ingredients
Strawberry rhubarb filling
2 cups fresh strawberries (about 3/4 pound), diced
2 cups fresh rhubarb (about 1/2 pound), diced
1/2 cup granulated sugar (or less if you prefer)
1/2 teaspoon kosher salt
1 tablespoon cornstarch
1 tablespoon lemon juice
Dough and crumble topping
3 cups all-purpose flour
1/2 cup granulated sugar
2 sticks (one cup) unsalted butter, chilled and cut into cubes
1/2 teaspoon kosher salt
Zest of one lemon
1 teaspoon baking powder
Directions
Preheat oven to 350ºF. Line a 9x13-inch baking pan with parchment paper. (Hint: coating the bottom of the pan with a little cooking oil spray helps keep the parchment paper in place.) Leave an inch or so of parchment paper sticking out at either end of the pan; this makes it easier to lift the bars out and cut them into neat squares after they've cooled.
Prepare the filling: dice strawberries and rhubarb and add to a large bowl. Combine fruit with other filling ingredients and stir to combine. Set aside.
Prepare the crust and crumble topping: in a large bowl, whisk together flour, sugar, salt, lemon zest, and baking powder. Add butter and work it into the flour mixture with your fingertips until butter is incorporated and you get a crumbly mixture. Scoop out 1 cup of the crust mixture and set aside. Pour the rest of it into the prepared baking pan and press firmly into place.
Assemble the bars: spread fruit filling evenly over crust, then sprinkle with the reserved crust/crumble topping. Bake for 40–45 minutes. Let cool thoroughly at room temperature, then cut into bars. It's actually easier to cut if you chill it in the refrigerator overnight.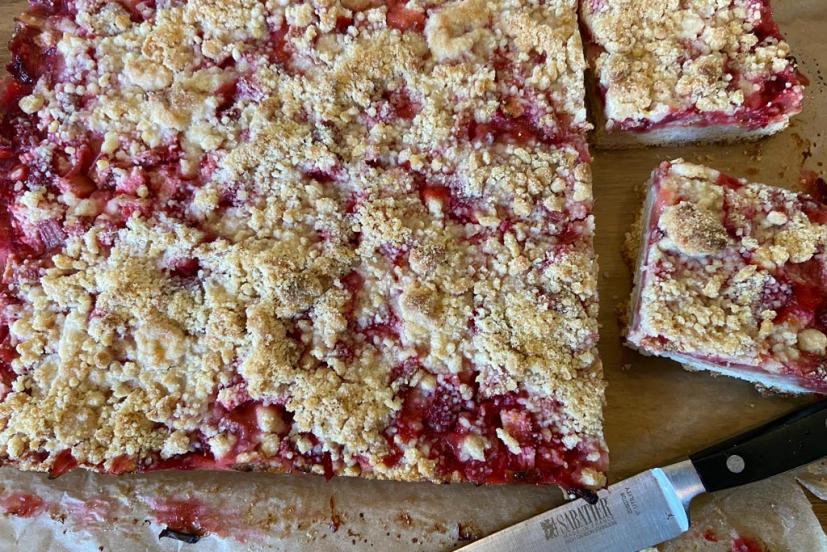 We get commissions for purchases made through links in this article.
Sign up for tips & news for Marin families!