Back to top
Comics, Cartoons, and Family Fun at the Charles M. Schulz Museum in Santa Rosa
Fans of Charlie Brown, Snoopy, and all the other characters from the Peanuts comic strip know that Santa Rosa was home to the late cartoonist Charles M. Schulz. You've probably spent some time skating at Snoopy's Home Ice at the Redwood Empire Ice Arena, which was founded by Schulz in 1969, but the Charles M. Schulz Museum, located right across the street on Hardies Lane, is a must-visit destination for families, too!
I suspect most parents have more fond memories of Peanuts than their children; we all grew up with the ubiquitous Peanuts comic strips, TV specials, books, toys, and more. For myself, a highlight of just about every holiday was watching the appropriate Peanuts special—whether A Charlie Brown Christmas, It's the Great Pumpkin, Charlie Brown, or even It's the Easter Beagle, Charlie Brown on TV. Of course the recently released Peanuts Movie may change all that, so it's a great time to take the kids to check things out! It's not an especially large place, but there's plenty for both kids and parents to see and do, so plan on spending a few hours there.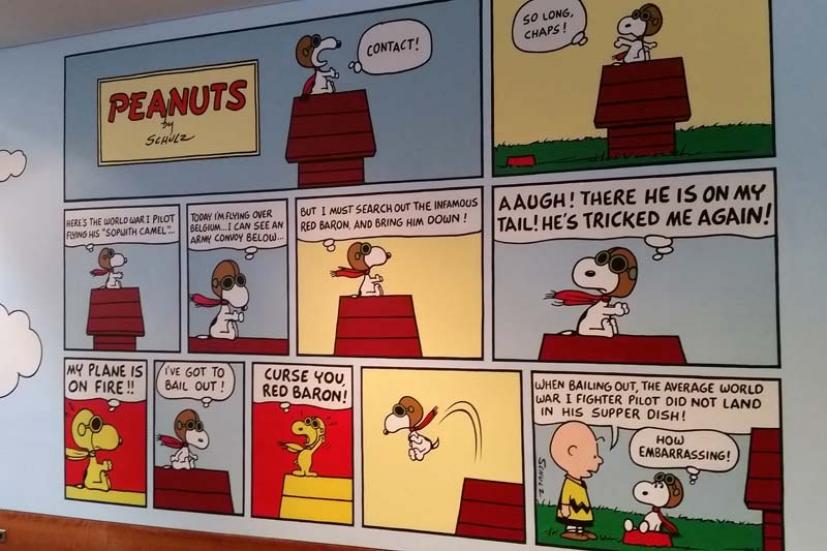 The museum consists of a few permanent displays and several galleries of changing exhibitions. Currently, the galleries feature Snoopy and the Red Baron, an exploration of Snoopy's fantasy life as a World War I flying ace; Celebrating 65 Years of Peanuts, a selection of comic strips that show how the characters involved changed over the decades; and The Peanuts Movie: From Schulz's Pen Line to the Big Screen, a behind-the-scenes look at how Blue Sky Studios brought the peanuts characters to life using 3D animation.
Other displays feature mementos and effects related to Schulz's life and work, including the cartoonist's studio (which used to be located in an office near the ice rink), a wrapped version of Snoopy's dog house by artist Christo, and a nursery wall painted by Charles Schulz for his daughter in 1951.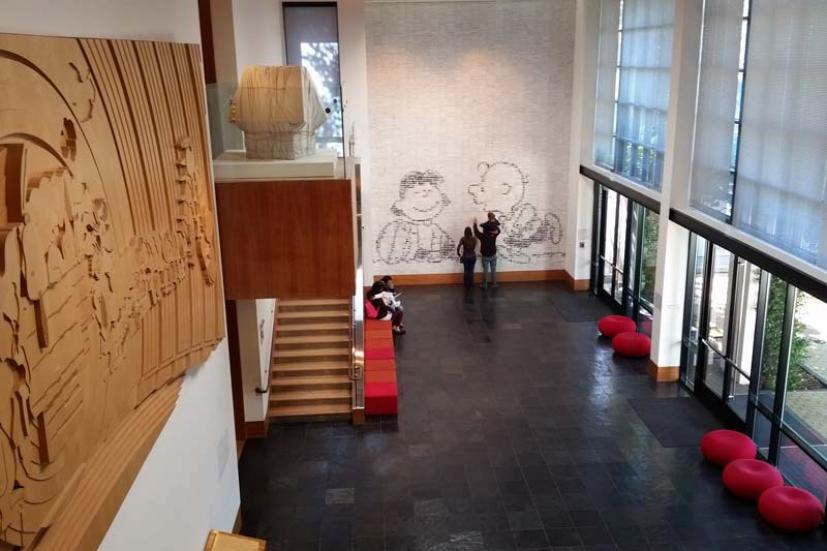 Along the way, there are plenty of opportunities for the kids to learn, play, and get involved with hands-on fun. Downstairs, there's a play station with a comfy beanbag chair, books, toys, and drawing materials. Upstairs, don't miss the Education Room, where kids (and grownups, too) can draw cartoons and comic strips, read, play, and even make animations, which you can test out on two zoetropes mounted on tables in the room.
We spent quite a bit of time here drawing and experimenting. Feel free to sign and date your artwork and hang it on the wall! Helpful volunteers are on hand for guidance and to answer questions.
There's also a 100-seat theater that shows programming throughout the day, including documentaries on Schulz and his work and Peanuts cartoons. We took a break and saw A Charlie Brown Thanksgiving while we were there. The museum also has an outside garden area that's fun to explore. It features Peanuts-inspired sculptures and artwork, including Charlie Brown's kite-eating tree and a really cool holographic bird bath.
The museum building itself celebrates Peanuts and the legacy of Charles Schulz with specially commissioned artwork like a mural made from thousands of different Peanuts strips, large blow-ups of comic strips and characters, and a Snoopy labyrinth in the garden. Even the restroom signs reflect Peanuts themes!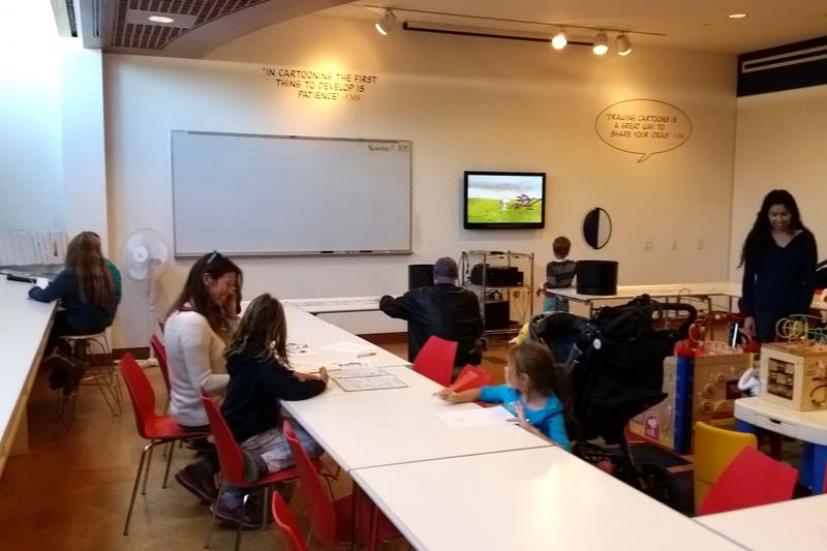 The museum offers events and programs throughout the week, including Museum Mondays, a series of activities for children ages 1–5 and their parents or caregivers, cartooning classes for kids, activity days for homeschoolers or scouts, and even summer camps.
My kids had such a great time, they're already asking when they can go back. I can't wait to go back and explore some more, too.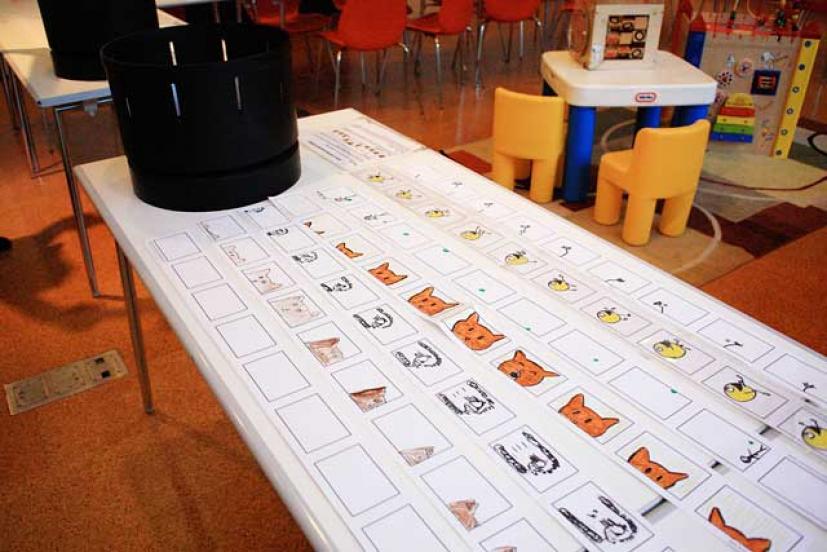 If You Go
The Charles M. Schulz Museum is located at 2301 Hardies Lane in Santa Rosa, off West Steele Lane across from the Snoopy's Home Ice. From September through Memorial Day, it's open Wednesday through Monday. During the summer, from Memorial Day through Labor Day, the museum is open every day. Hours are 11 am to 5 pm on weekdays and 10 am to 5 pm on weekends.
Admission to the museum is $10 for adults; $5 for seniors 62+, youth 4–18, and students with valid ID; and free for members and children 3 and under. Make sure you pick up a family guide at the entrance stand—they're filled with activities and games for kids, and if you bring the completed guide to the admission desk, you get a free gift.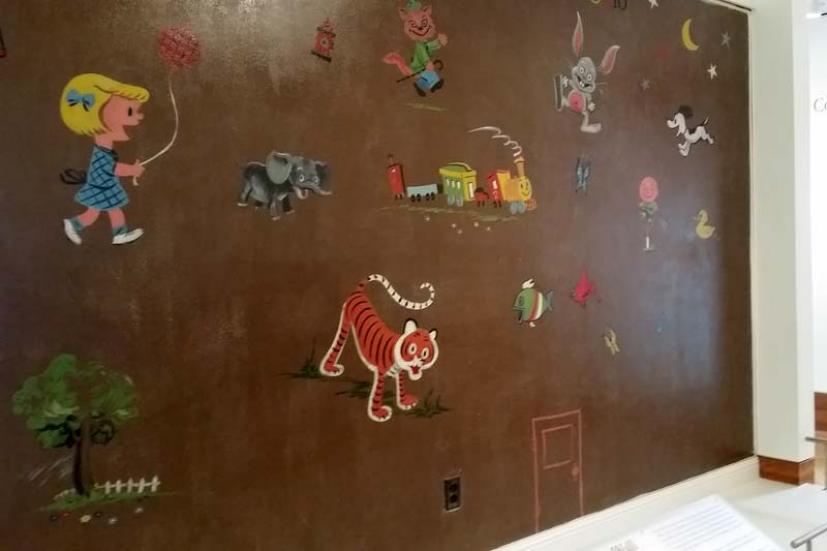 To get there, take Highway 101 north to Santa Rosa. Take the Guerneville Road/Steele Lane exit. Turn left at the signal light and get into the far right lane. Bear right onto West Steele Lane when the road splits. Turn right onto Hardies Lane, and then right into the parking lot.
Restrooms with changing tables and drinking fountains are available at the museum. There's no restaurant on site, but you can walk across the street to the Warm Puppy Café at Snoopy's Home Ice for snacks and meals.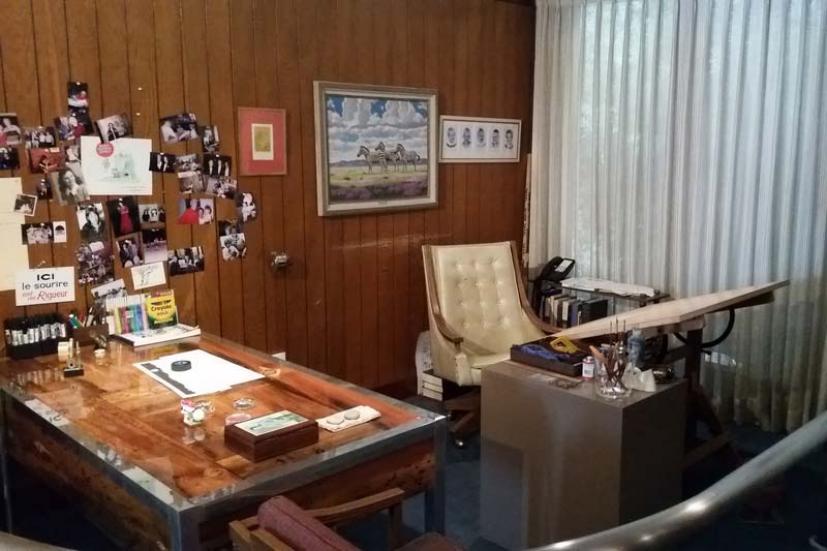 The museum has a small gift shop with a selection of books, stationary, T-shirts, DVDs, and souvenirs. You can also visit Snoopy's Gallery and Gift Shop, on the other side of Snoopy's Home Ice, for more Peanuts shopping and fun.
For more information, visit www.schulzmuseum.org or call (707) 579-4452.
Sign up for tips & news for Marin families!