Back to top
Cool Off at Marin Community Pools 2023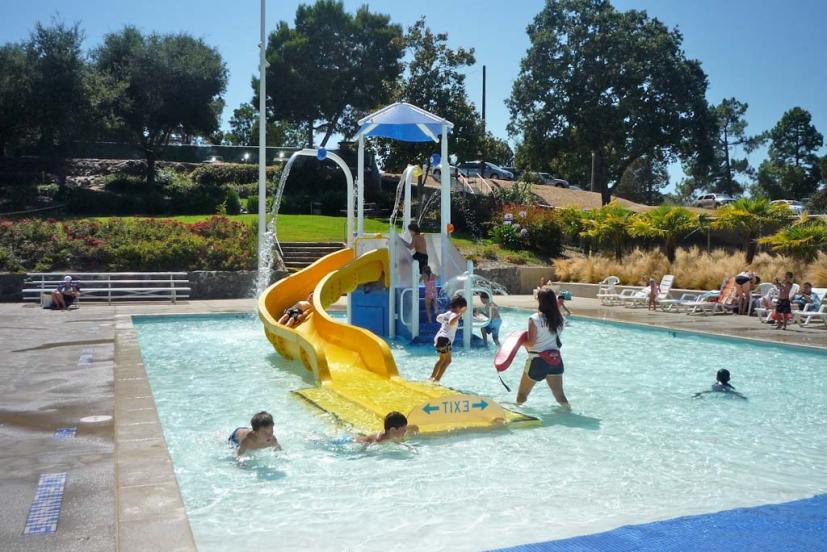 Looking for a family-friendly pool in Marin to keep cool on a warm spring or summer day? Here's our list of swimming pools throughout Marin County that are open to the public and offer drop-in recreational swim hours for families. In addition to daily drop-in fees, many of these pools offer season passes for families as well. We've also included some of the awesome private swim clubs here, in case you want to purchase a family membership for swimming fun all summer long.
All schedules and drop-in fees are accurate at the time of publishing, but are subject to change and cancellation without notice. It always helps to give them a call to confirm hours and prices before you go. If you know of another local drop-in swim facility that you don't see in our roster here, please let us know and we'll add it to the list.
Mill Valley
Novato
Hamilton Pool
203 El Bonito Drive, Novato 94949
(415) 485-3344
www.novato.org

Schedule:
Opens May 27, 2023
Open swim hours: times vary; see schedule here

Drop-in Fees:
Novato residents: adults 16+ $9, youth 1+ $7
Non-residents: adults $11, youth $9

Miwok Aquatics & Fitness Center
College of Marin, Indian Valley Campus
1800 Ignacio Boulevard, Novato 94949
www1.marin.edu

Schedule:
Summer recreational swim (shallow pool only):
Tuesday, Thursday & Friday, June 13–August 12
11:30 am–2 pm

Fees:
$10 daily; $250 summer; $600 family (up to 4 people)

Rolling Hills Club
351 San Andreas Drive, Novato 94945
(415) 897-2185
www.rollinghillsclub.com

Schedule:
Recreational swimming offered daily; times vary, see website for schedule.

Fees:
Membership required. You can get a free 3-day pass to check out the club before joining.
San Rafael
Marinwood Community Center Pool
775 Miller Creek Road, San Rafael
(415) 479-2335
www.marinwood.org

Schedule:
April 3–October 6
Recreational swim hours vary month-to-month; check their website for spring and fall schedules.

Drop-in fees:
Marinwood residents: youths 18 and under $6, adults $8
Non-residents: youths $8, adults $10
5-swim punch pass: $30 residents, $40 non-residents
You can also join the pool for the season for unlimited swimming. Family memberships (for up to 4 people) are $384 residents, $479 non-residents.

McNear's Beach Pool
201 Cantera Way, San Rafael
(415) 446-4424
www.marincounty.org

Schedule:
Opening on May 27
Wednesday–Sunday and holidays
10:30 am to 5 pm

Drop-in fees:
$5 per vehicle parking fee.

Northbridge Pool
160 Madison Avenue, San Rafael 94903
(415) 634-7665
www.northbridgepool.org

Schedule:
Hours: April–October
Open sunrise to sunset 7 days a week including holidays
Lifeguard, swim lessons, birthday parties

Fees:
Membership required.

Terra Linda Community Pool
670 Del Ganado Road, San Rafael
(415) 485-3344
www.cityofsanrafael.org/pools

Schedule:
Opens May 6
Saturday & Sunday, 11:45 am–5 pm
Additional spring and summer hours TBA.

Drop-in fees:
San Rafael residents: adults $7, youth 1–17, $5
Non-residents: adults $10, youth $8
15-admission punch cars: $91/$65 residents, $130/$104 non-residents
Sign up for tips & news for Marin families!