Back to top
Electivity: Customized Afterschool Enrichment Programs, Fun for Children, Easy for Parents and Schools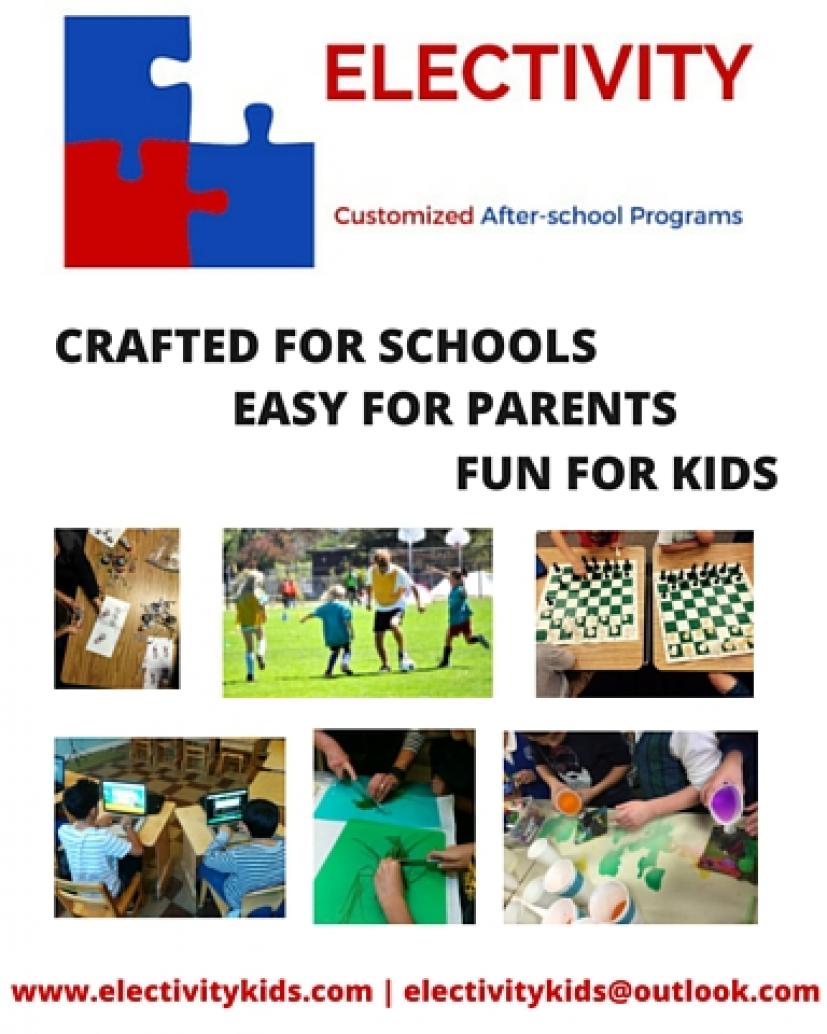 Marin Mommies presents a sponsored shout-out from Electivity.

Wish there was an easier way for your child to continue learning new skills and discovering new abilities after the school day? Wish you could squeeze in a work email or errand before school pick-up? 
With Electivity's customized afterschool enrichment programs, you can!
Led by two Marin moms, Electivity was borne from their constant search for quality after-school programs. They were delighted to find interesting programs (tried and tested by their children) and capable instructors with whom they have formed robust relationships. Encouraged by fellow parents' call for access to high quality and affordable after-school activities, the moms launched a free service to schools, customizing after-school programs offered on school premises.
Electivity curates and builds a full spectrum of programs for schools, and offers enriching learning opportunities that complement the school day through classes such as: languages, STEM, circus arts, culinary arts, cheer, hula, keyboarding, magic/stage presence, multi-sports, performing and mixed media arts, and much more.
Since launching in January 2015, Electivity has expanded rapidly throughout Marin, serving more than 400 children with fun classes.  Schools include Willow Creek Academy, San Ramon Elementary School and in partnership with FPCSR) with more schools slated to start this year.  Schools and parents delight in the one-stop service that Electivity provides from curriculum building to enrollment to communication.  No more dealing with multiple instructors and their different registration platforms!
Whether your child's school is exploring after-school enrichment programs or adding to its existing repertoire, Electivity can help.  You can also be our Electivity Ambassador and have your child try out a free class. Want to bring Electivity to Your Child's School?  Contact us now! 
Visit www.electivitykids.com, www.facebook.com/electivitykids or email electivitykids@outlook.com for more details.
Today's Events
Wednesday, March 21, 2018