Back to top
Experience Life on the Farm at McClelland's Dairy Pumpkin Patch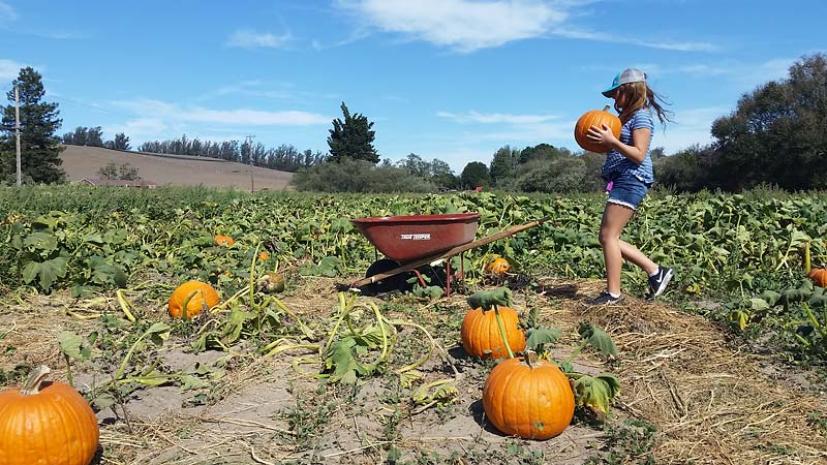 McClelland's Dairy is a family-run, certified organic dairy farm located just west of Petaluma, and their annual Halloween pumpkin patch just keeps getting better and better every year. McClelland's offers a lot of fun for families, especially if you are looking for a genuine farm experience. If you haven't been there yet, it's definitley worth putting on your fall family itinerary. Attractions and activities here range from a farm animal petting zoo and a look into the dairy's milking barn to a giant slide and obstacle course to a new Haunted Forest and an air-powered pumpkin cannon. You can hang out here and play all day!
The entrance to McClelland's can sneak up on you a little, so keep an eye out for their signs as you head down Bodega Avenue into the Two Rock area west of Petaluma. Turn into the dirt driveway and look for the parking entrance to your immediate right. On your left you'll see their big pumpkin patch, where you're welcome to go pick that perfect Halloween pumpkin off the vine. All pumpkins here are organically grown.
This year McClelland's has more activities than ever. In addition to u-pick pumpkins, there's a little kids' hay maze, a big box full of corn, tire swings, and a petting zoo where you can meet some gentle and friendly farm animals, including goats, calves, pigs, and a miniature horse. There's also a cool vintage John Deere tractor that kids can pose on for photos, with a bunch of little pedal tractors you can ride around it. All these attractions are free!
For an added fee kids can jump around on the inflatables in bounce house row, tour the spooky haunted house, ride down the giant slide, tackle the obstacle course, and take a tractor-drawn hay ride. For $10 for children ages 4 to 12 or $6 adults 13+, you can buy a wristband for unlimited fun and play all day. Discounted family packs are available, too.
Returning this year is the pumpkin blaster, a compressed-air-powered cannon that you can use to fire pumpkins at various targets, including cut-outs of President Trump (who was a popular target last years). The pumpkin blaster is … well … a blast! It costs $5 to shoot three pumpkins and $10 for eight.
This year, McClelland's has a new attraction: the Haunted Forest! Every Friday and Saturday evening, beginning at dusk, the usually innocuous hay ride takes a scary turn as it travels through the chilling Haunted Forest. Admission is included with an activity wristband.
When you're ready to go pick pumpkins, grab a wheelbarrow and head out to the field. You'll find pumpkins of all sizes, from enourmous to tiny. There are several different varieties and colors, too, from your standard orange jack-o-lantern pumpkins to white "Polar Bear" ones to bright red-orange French "Cinderella" pumpkins. You might also stumble across gourds and other kinds of squash out in the patch, too. It's a lot of fun to see what you can find! Pumpkin prices range from $1 for gourds and small pumpkins to $40 for giant monsters.
There's also a farm store, where you can shop for organic dairy products like McClelland's European-style organic butter, free range eggs, and other merchandise, and a food stand offering hot dogs, grilled cheese sandwiches, nachos, ice cream, chili, and other snacks and drinks, many of them organic. The food was simple but good, and prices were really inexpensive; our whole family ate lunch for under $20. You can eat in the huge tented picnic area, and you're welcome to bring your own food, too.
You can also look through a large window and watch cows being milked in the parlor. There's another viewing window in the building adjacent to the farm store where you can get a different view of the milking action. This is always a big hit with the kids and they really enjoy watching the how cows being milked.
If you want to learn even more about life on the farm, they offer guided farm tours, where you can learn about the history of the farm and how animals are cared for, pet babies in the nursery, and even try milking a cow by hand. A variety of tour packages are offered in conjunction with the pumpkin patch. Reserve your farm tour spots online, since tours often sell out in advance, especially during pumpkin patch season.
You can spend the whole day out at McClelland's—grab some lunch, go on a farm tour, hunt for pumpkins and gourds in the pumpkin patch, play, and more. It's a great addition to the fall pumpkin patch lineup, and a lot of fun to visit.
If You Go
McClelland's Dairy is located at 6475 Bodega Avenue, just outside Petaluma. To get there, take Highway 101 to the East Washington Street exit in Petaluma. Turn left (west) at the stop light and follow East Washington Street west. Washington Street becomes Bodega Avenue. Keep following Bodega Avenue west and keep an eye out for McClelland's pumpkin patch signs; they'll let you know when you're getting close.
The pumpkin patch is open Fridays from 1 to 9 pm, Saturdays from 10 am to 9 pm, and Sundays from 10 am–6 pm now through the month of October, weather permitting. Admission is free. Credit cards are accepted for all purchases. For more information, visit www.mcclellandsdairy.com or call (707) 664-0452. You can also keep up with pumpkin patch happenings on their Facebook page.