Back to top
Family Day Trip to Sacramento's California State Railroad Museum
Looking for a fun and educational day trip? Why not explore California's railroading past at Sacramento's California State Railroad Museum? Located in the historic Old Sacramento neighborhood, it's an easy drive from the Bay Area or a convenient stop on the way home from Tahoe. Either way, it's perfect for a family outing at any time of the year.
If you like trains—and really, who doesn't?—the California State Railroad Museum is the place to go. Chronicling the history of California's railroads from the first transcontinental railroad in the 1860s to the modern day, there's really something here for the whole family. Not only can you view two centuries worth of historic locomotives and rolling stock, but you can actually go on board four different railroad cars, one of which simulates a train ride at night.
You can also see a huge array of toy trains and model railroad equipment, including a massive model train layout, and get hands-on with STEM learning activities. It's one of the most family-friendly museums you can visit, full of big machines and fun things for kids to see and do.
The museum is arranged chronologically, with life-size dioramas and displays that tell the story of the Golden State's railroads. Enter the museum and you'll first see a re-creation of an early Central Pacific Railroad tunnel and construction site, complete with the 1862 locomotive Governor Stanford. It's a real "wow" moment when you turn the corner and see a full-sized locomotive parked in the room.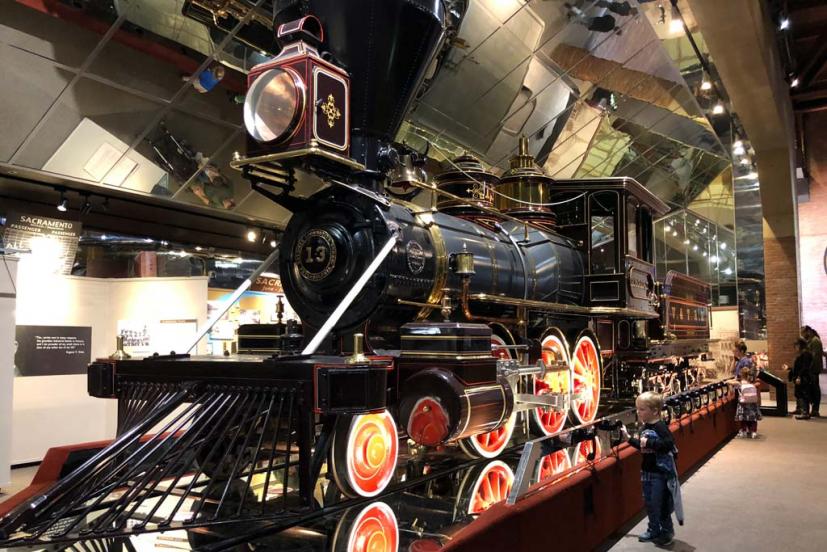 Walk up the ramp around the Governor Stanford and you'll enter the main exhibit hall, which is chock full of railroad equipment. There's an amazing collection of mid-19th-century steam locomotives, including the aforementioned Governor Stanford; the ornately decorated 1863 Central Pacific engine C.P. Huntington; and even the Sonoma, an 1875 narrow gauge locomotive from the old North Pacific Coast railroad. Marin County history fans will note that the Sonoma once pulled cars along the line that led from Sausalito to the Sonoma County hamlet of Duncan's Mills via Fairfax, Point Reyes Station, and Tomales.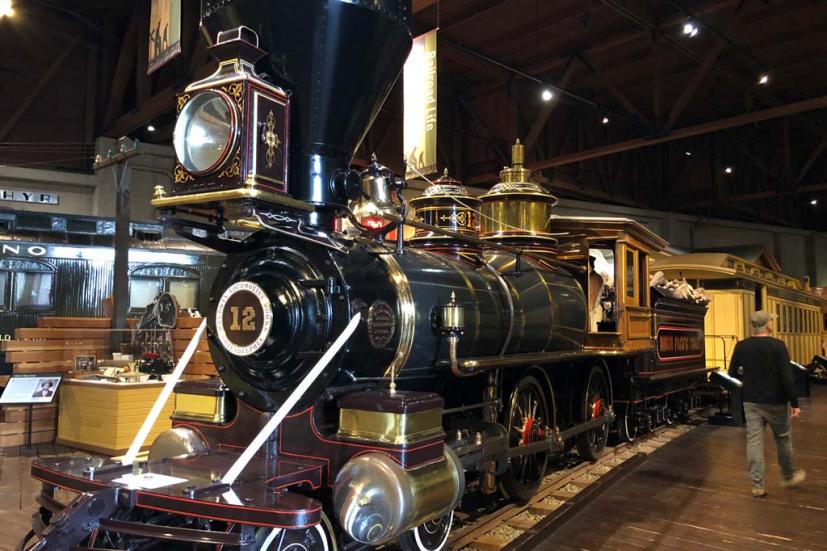 There are plenty of more modern locomotives on display, too, including a monstrous Baldwin cab-forward steam engine from the 1940s (the sole survivor of its type) and a number of other steam and diesel locomotives from the 20th century. Many of the locomotives are statically restored, but quite a few are in operational condition, too.
Part of the fun of visiting the California State Railroad Museum is visiting the four train cars that you can actually board and explore. There's a streamlined Great Northern post office car from 1950, the elegant 1930s Santa Fe dining car Cochitii, a 1924 Fruit Growers Express refrigerator car, and St. Hyacinthe, a 1929 Canadian National Railways sleeping car.
This last car is probably the most fun to visit, as it simulates a ride on a sleeping car underway at night. The car rocks gently, a soundtrack plays the click-clack of the wheels and the sound of bells and train whistles, and if you look out the windows it appears you're passing the occasional light post. It's all very effective and it's quite a shock to exit the car and find yourself back in a museum in the 21st century, instead of on a passenger train in the 1930s.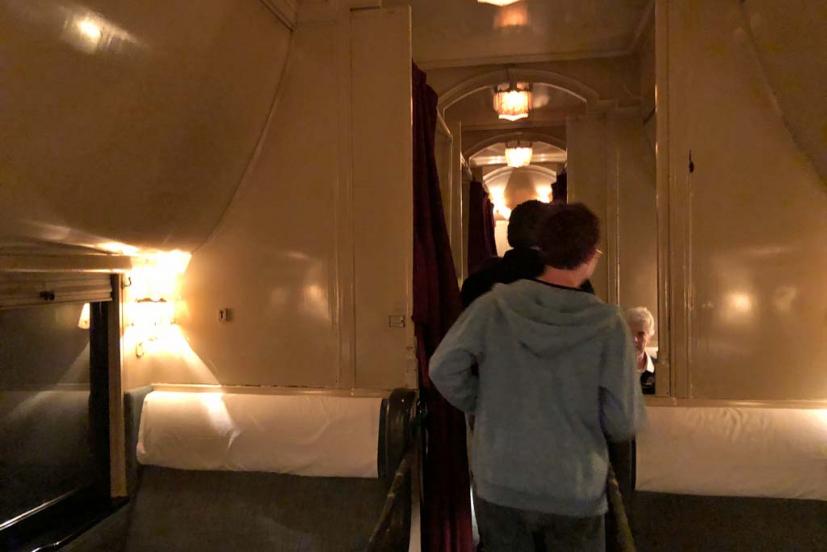 Volunteer docents staff each of the railroad cars and are stationed at various displays around the museum. The ones we talked with were all really friendly and knowledgeable, so feel free to say hi and ask questions.
Make sure you head upstairs, too. In addition to getting a great view of the locomotives and cars on the main floor, you can explore the museum's collection of nostalgic model trains and railroad toys dating from the 1870s to the present day. There's also a Thomas the Tank Engine area (seriously, you didn't think you were going to escape Thomas and Friends here, did you?) with several large train tables for young children to play with, as well as a seating area for parents to relax while their kids play.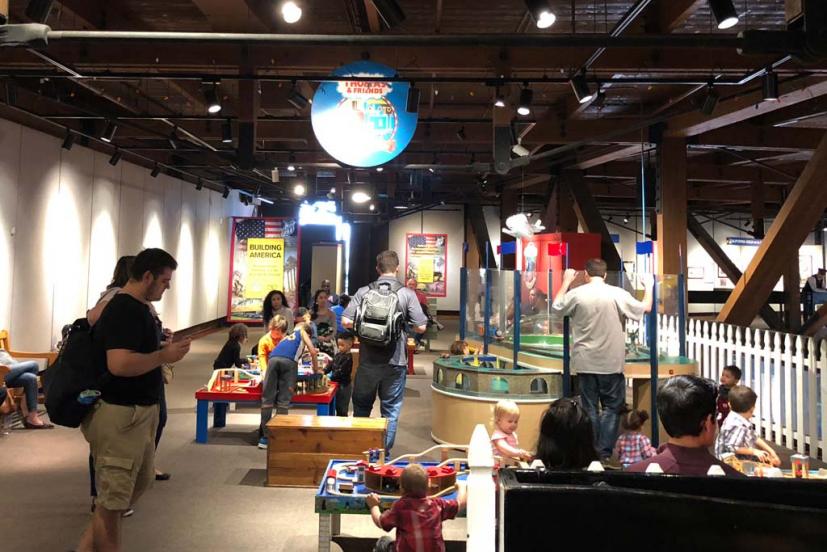 Older kids will enjoy working with hands-on railroad-themed activities in the STEM learning center. Upstairs is where they also offer occasional rotating exhibits, like the cool high-speed rail simulator on loan from a railroad in Japan.
If all that isn't enough, they offer excursion steam train rides on the Sacramento Southern Railroad from April through September. Trains, pulled by the museum's Granite Rock #10 steam engine or a historic diesel locomotive, leave from Old Sacramento's Central Pacific Railroad Freight Depot on Front Street every hour on the hour from 11 am to 5 pm. Rides last about 45 minutes and take you along the Sacramento River.
Look for their special Polar Express excursion train during the holidays —so popular that it sells out way in advance. There's also a Halloween-themed "Spookmotive" train ride in October.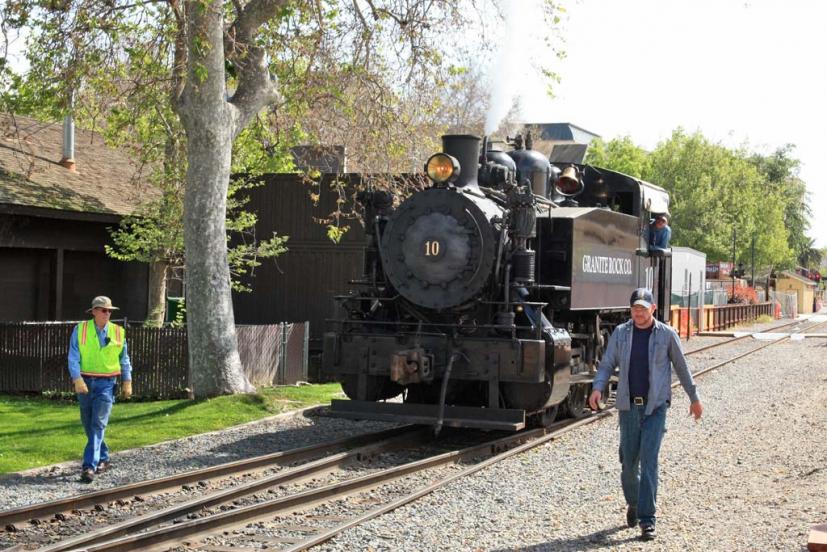 If You Go
The California State Railroad Museum is located at the corner of Second and "I" Streets in Sacramento, and is open daily from 10 am to 5 pm; it's closed Thanksgiving, Christmas, and New Year's Day. Admission is $12 for adults, $6 for youths ages 6 to 17, and free for children 5 and under.
Excursion train rides are also $12 for adults, $6 for youths 6 to 17, and free for ages 5 and under; if you want to ride in air-conditioned style and enjoy refreshments in the first-class lounge car, tickets are $24 for adults, $16 for youth, and free for kids 5 and under. They take cash, checks, and credit cards.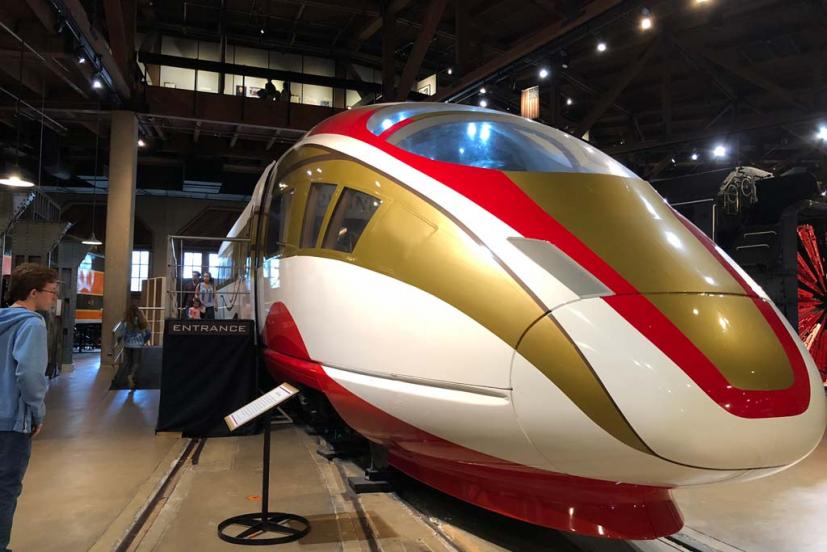 If you plan on visiting more than once, consider purchasing a museum membership. For $90, their Conductor family membership offers free admission for two adults and their children or grandchildren plus two additional guests, free excursion train rides, a museum store discount, special members-only events, advance notice for popular special events like the Polar Express train, and more. You also get free admission and train rides at the museum's sister institution, Railtown 1897 State Historic Park in the Gold Country town of Jamestown. You can buy a membership at the museum, at the will call counter at the train depot, or online.
The museum is located right in the Old Sacramento historic district, so there's plenty to do here if you want to make a day of it. Visit the historic buildings in the Old Sacramento State Historic Park and visit the stores and restaurants in Old Sacramento, where there are more trinket shops and candy stores than you can shake a stick at (think Fisherman's Wharf meets the Gold Rush).
Sacramento can be cold and foggy in winter and scorchingly hot in the summer, so dress accordingly.
For more information on the California State Railroad Museum, visit www.californiarailroad.museum or call (916) 445-6645.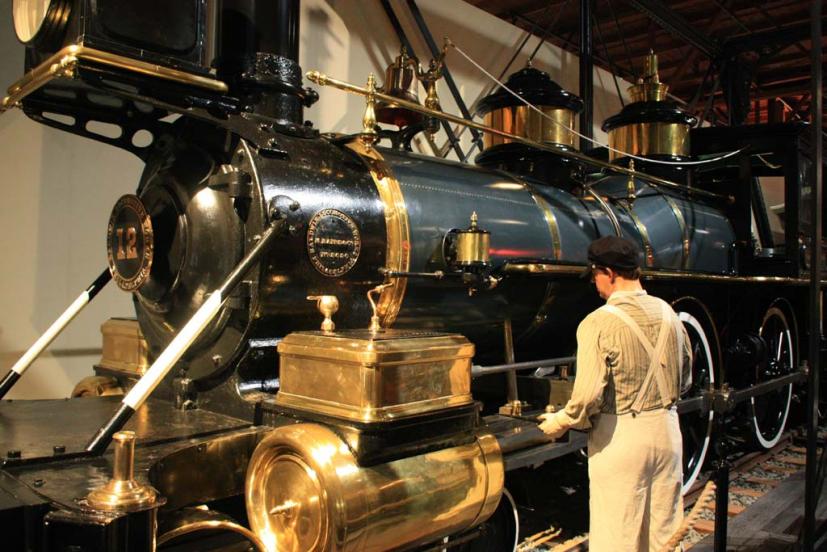 Getting There
 To get to the California State Railroad Museum, take US 101 to Highway 37 in Novato. Head east on Highway 37 through Vallejo, where you'll pickup I-80 east. Follow I-80 east toward Sacramento. Continue onto Highway 50 toward downtown Sacramento, then take the I-5 north exit. Exit at "J" Street, go two blocks to Fifth Street, then turn left and left again at "I" Street and follow the signs to "Old Sacramento/Railroad Museum."
Convenient Parking can be found at the Old Sacramento Garage at 2nd and "I" Streets adjacent to the museum, or at the Tower Bridge Garage at Front Street and Capitol Mall. Avoid parking in Old Sacramento itself, as the metered street parking is hard to come by and is only good for 90 minutes or so.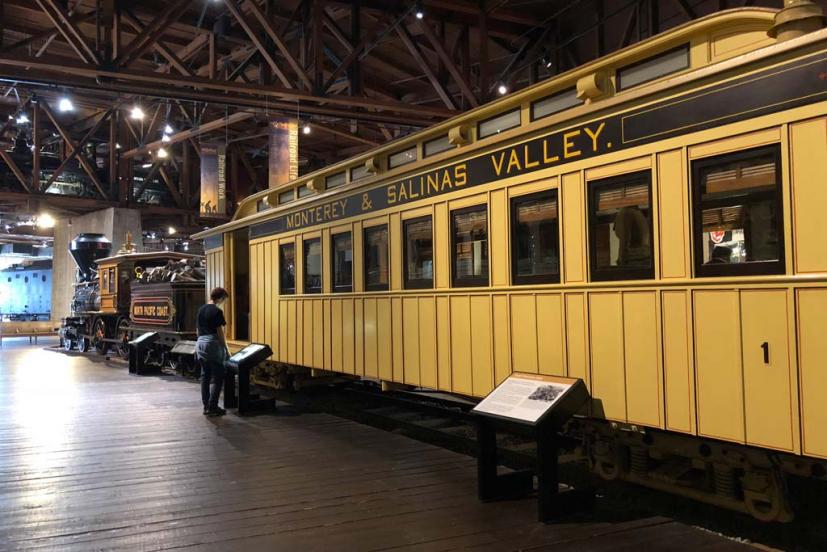 If you're so inclined, you can even take Amtrak's Capitol Corridor train service to the California State Railroad Museum. The Sacramento Amtrak station is located right next door to Old Sacramento, and it's about a two-block walk from the station to the museum. From the Bay Area, you can board the train in Emeryville, Berkeley, or Richmond. For more information on arriving by train, visit the Capitol Corridor website.
Sign up for tips & news for Marin families!