Back to top
Festive Almond Cake with Strawberries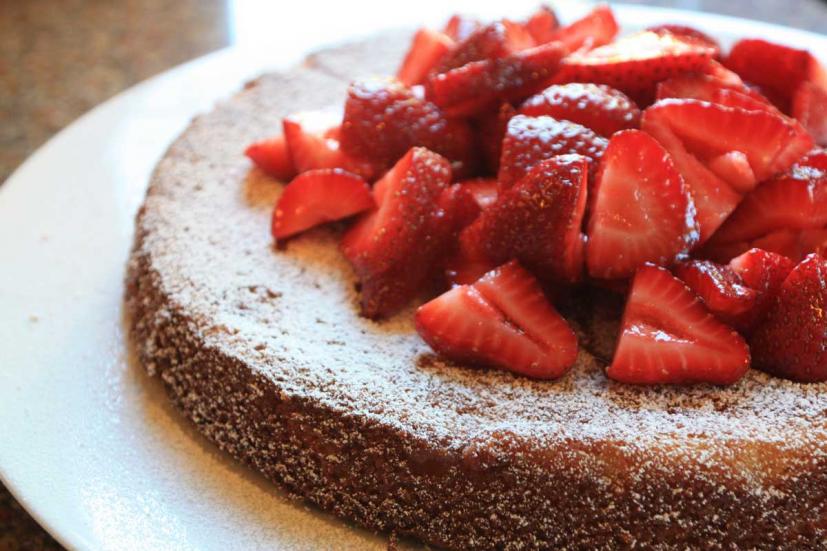 During the spring and early summer, I'm always on the lookout for recipes that use fresh local strawberries, which my whole family loves, but then who doesn't? This delicious cake is really easy to make, and it's light and delicious. With its red berries and powdered sugar, it looks amazing, too. It's perfect for a festive dessert or a tea time snack.
Makes 12 servings
Ingredients
3/4 cup sugar
8 ounces almond paste
1/2 cup unsalted butter, softened
Zest of 1 orange
1 teaspoon vanilla extract
3 large eggs
1/2 cup flour
1 teaspoon baking powder
1/4 teaspoon salt
2 cups sliced strawberries
2 tablespoons honey
2 teaspoons balsamic vinegar
Powdered sugar for dusting
Directions
Heat the oven to 350ºF. Butter a 9-inch round cake pan. Line the pan with a piece of parchment paper cut to fit the bottom and butter and flour the paper.
Place the sugar and almond paste in your food processor and pulse until it's blended, about 40 seconds. Add the butter, orange zest, and vanilla extract and pulse until smooth, again about 40 seconds. With the processor running, add the eggs one at a time. Remove the lid and add the flour, baking powder, and salt, then pulse a few more times until just blended, about 15 seconds. Scrape the batter into the prepared pan and smooth the top.
Bake the cake until golden and a toothpick inserted into the center comes out clean, about 30 to 35 minutes.
Meanwhile, place the berries, honey, and vinegar in a medium bowl and stir to combine. Refrigerate for at least one hour or until the berries are juicy.
Cool the pan on a wire rack for 30 minutes, then loosen the cake's sides with a knife, invert it onto a serving plate, and peel off the parchment. Serve the cake dusted with powdered sugar and topped with the berries.
Sign up for tips & news for Marin families!