Back to top
Go Play in the Snow! Great Places for Family Snow Play in Northern California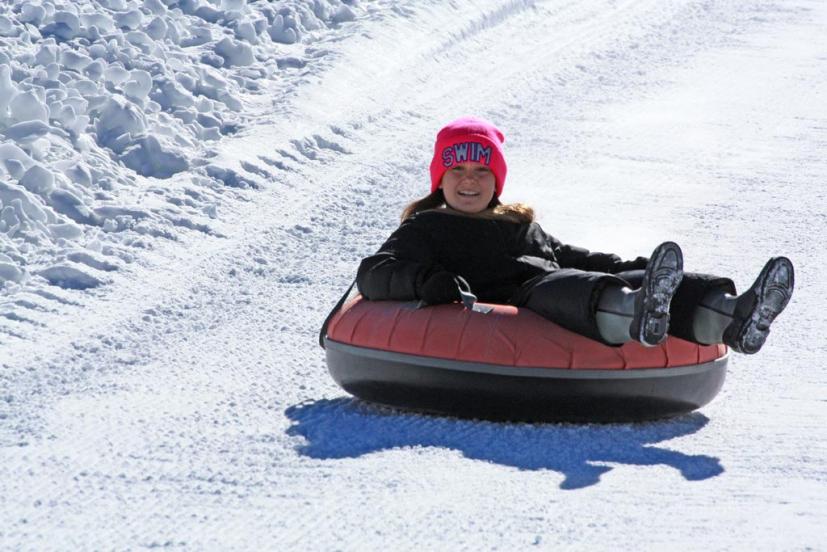 There's snow in the Sierra, so get ready for some wintertime fun! While we love the skiing and snowboarding at Lake Tahoe, we know that not everyone's a skiier and sometimes families just want to go up and have some fun in the snow. While many of the Tahoe ski resorts like Northstar, Squaw Valley, and Heavenly have tubing parks, ice skating, and other winter non-skiing activities for the family, there are plenty of other places in the mountains where you can get your snow play fix without the ski resort hustle and bustle (and price tag).
Most of these snow play sites are within a few hours' drive from Marin and the San Francisco Bay Area. While some have tubes and sleds to rent, others, most notably the California State Sno-Parks, offer little more than a place to park your car so you can go play in the snow. For a list of Lake Tahoe ski resorts that offer both skiing and snow play activities, read our article here.
Prices and hours are correct to our knowledge at time of publication. Hours and availability depend on weather, snow conditions, and other factors, so make sure you check with resorts to confirm they'll be open before you head up to the mountains.
Northern California Snow Play Resorts
While not as numerous as ski resorts, you'll find a few snow play resorts throughout the Sierras. These places usually boast a lodge or clubhouse, dining, restrooms, and other activities. You'll probably have to rent a tube or sled while you're there, as many of these facilities don't allow outside equipment. Most open around mid-December, although opening dates are dependent on weather and snowfall. Make sure you call or check their website before you go.
The dedicated snow play area at Tahoe Donner offers sledding and tubing fun for families, and opens Thanksgiving weekend. The TD Eats food truck will be on hand for snacks, soups, and beverages. Relax by the fire pit with a cup of hot chocolate after playing in the snow! Tahoe Donner Snowplay is projected to open Thanksgiving weekend, November 25–27 from 9 am–4:30 pm, conditions permitting; after Thanksgiving weekend it will close and reopen Friday, December 9. It's open Fridays 12:15–4:30 pm and Saturdays, Sundays, and holidays from 9 am–4:30 pm. Location: 12790 Northwoods Boulevard, Truckee, 96161. More info: www.tahoedonner.com or (530) 587-9437.
Granlibakken resor near Tahoe City offers a dedicated sledding hill and snow play area for family fun. Their sledding hill is open now from 10 am–4 pm daily! Sledding tickets cost $25 per person on weekdays and $35 on weekends and holidays and include saucer rental and and hour and a half of sledding. Kids under 3 sled for free, and lodging guests get a 50% discount. Guests must book sledding tickets in advance online, and choose a 90-minute time slot. Note: Granlibakken provides saucers; participants may not bring their own saucers and other sledding devices. Location: 725 Granlibakken Road, Tahoe City 96145. granlibakken.com
While Soda Springs resort near Truckee offers skiing and snowboarding, there's a special focus on family snow play here, with tubing for everyone at Tube Town and plenty of snow play for the little ones at Planet Kids — a snow playground for ages 8 and under with tubing, snow hills to climb, ski and snowboard lessons, and more. On-site dining is available. Location: 10244 Soda Springs Road (off I-80 near Donner Summit), Soda Springs, 95728. More info: www.skisodasprings.com or (530) 426-3901
Kingvale Resort near Soda Springs offers groomed tubing and sledding runs and a snack bar. Bring your own tubes, sleds, and saucers! You can purchase an inexpensive ($26), two-person sled at the resort. Opening day TBA. Hours: Daily except for Tuesday and Wednesday, 10 am–4 pm; parking lot opens at 9 am. All-day tickets cost $25 per person; parking fee $20; children under 2 free. Location: Kingvale Exit (Exit 171) off I-80, Kingvale, 95728. More info: (916) 622-6654 or www.kingvaleresort.com
Located right off I-80 in Emigrant Gap, Nyack Snow Park offers snow play and hills to sled on. Snacks and supplies, including sleds and saucers, are available nearby at the Nyack General Store. $25 per car entry fee. Location: 41965 Nyack Road, Emigrant Gap 95715. More info: www.nyacksnowpark.com or (530) 362-4855
South Lake Tahoe's Adventure Mountain is all snow play, all the time! They offer tubing, sledding, saucers, snow play, snowshoeing, and sled and tube rentals, as well as dining and a gift shop. 2022/2023 opening data and fees TBA. You can bring your own gear or rent or purchase at the resort. Location: 21200 Highway 50, South Lake Tahoe (at Echo Summit), 96150. More info: adventuremountaintahoe.com or (530) 659-7217
Hansen's Resort in South Lake Tahoe operates a snow tubing hill with a 400-foot run. Open daily now through mid-March, 10 am–3 or 4 pm; times are subject to change to call before you go. Rates: $40 per person per hour; 4 and under free. Cash only. Rates include the use of a tube or saucer. Parking and restrooms available. Location: 1360 Ski Run Boulevard, South Lake Tahoe 96150. More info: www.hansensresort.com (530) 544-3361
TubeTahoe in South Lake Tahoe has 500 feet of groomed tubing lanes — some of the longest in the area! Open Monday–Friday, 10 am–4 pm and Saturday–Sunday, 9 am–4 pm. Special hours December 26–30 and January 2– 6, 9 am–4 pm. Open Christmas Day and New Year's Day, 11 am–4 pm. Rates (for 90-minute sessions, tube rental included): $65 ages 13+, $55 ages 6–12, $35 ages 3–5 on adult's lap in tube, $15 spectactor and snowplay only. No personal sleds or tubes allowed. Location: 3021 US-50, South Lake Tahoe, 96150. More info: tubetahoe.com or (530) 600-2304
The cross-country ski resort at the central Sierra's Bear Valley operates groomed sledding and tubing hills for families with children ages 3 and older. Two-hour sessions cost $15 per person for sledding and $20 per person for tubing ($20 and $25 peak season). There's $5 access fee per non-sledders/tubers ($10 peak season). No outside sleds or tubes allowed. Picnic tables, park benches, are available, and hot food and drinks are available nearby at the Meadow Cafe. No lifts: sledders must hike up the hill. Projected opening day: Saturday, November 19. Hours: 9 am–4 pm daily. Location: 1 Bear Valley Road, off Highway 4, Bear Valley, 95223. More info: (209) 753-2834 or www.bvadventures.com.
Located in Tuolumne Country east of the Gold Country town of Sonora, Leland Snow Play offers 12 acres of groomed runs and tow-up lifts for tubing and sledding. There's a kiddie hill for especially for little ones, mini snowmobiles for kids ages 5–12, and a 4,000-square-foot day lodge with snack bar and game room. Tentative opening date, Thursday, December 1. 34033 Leland Meadow Road, Strawberry, 95375. More info: www.snowplay.com or (209) 965-4719.
California Sno-Parks
Operated by the state's department of off-highway motor vehicle recreation, California Sno-Parks are no-frills places to park the car and get out and play in the snow. While many of them cater to snowmobile enthusiasts, there are a few that are perfect for sledding, snow play, snowshoeing, and cross-country skiing.
Keep in mind that Sno-Parks are pretty much just parking areas with access to places for winter recreation. Usually restrooms are provided, but that's about it. It's up to you to find a hill for sledding or saucering, but that's part of the fun, isn't it?
The best part of Sno-Parks is the price: $15 for a day-use pass or $40 for a seasonal permit. Passes and permits for the 2022/2023 season are only available online. Order yours here. Make sure you do buy a permit, because it's a lot cheaper than the tickets (currently over $90) that the CHP hands out to people who are parked without one! Note that parking at Sno-Parks is on a first-come, first-served basis, and some of the more popular locations can fill up early. Also, conditions can change and parks can close, so check the Sno-Parks website before you head up to the mountains for directions and more information.
Sno-Parks that are open for snow play and sledding include:
Sign up for tips & news for Marin families!