Back to top
Halloween Train Rides for Kids in Northern California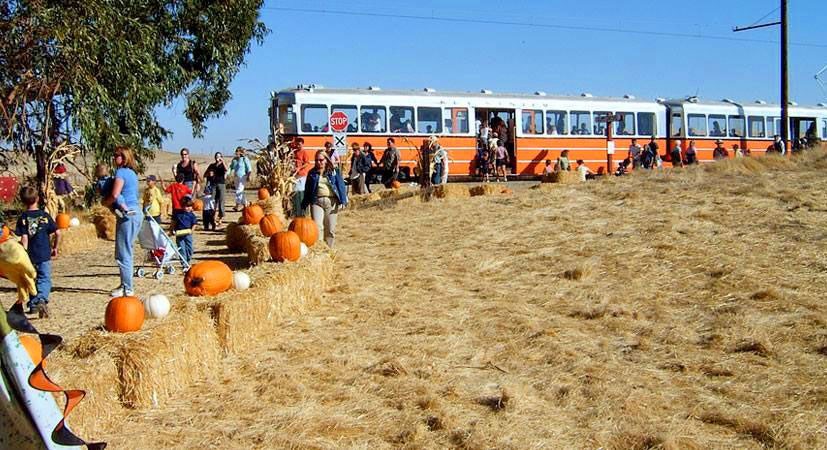 All aboard for spooky (and not-so-spooky) Halloween fun! This fall, combine Halloween festivities with a fun family train ride on one of Northern California's historic railroads. Make your reservations now for a train ride this October that you and your kids will never forget.
Note that most of these rides require advance reservations and tickets may be limited due to the ongoing COVID situation. Some popular events have been canceled again for 2021 but all train rides listed here are taking place unless otherwise noted.
5848 State Highway 12
Suisun City, CA 94585
(707) 374-2978
www.wrm.org
The Western Railway Museum in rural Solano County holds its celebrated Pumpkin Festival every Saturday and Sunday from October 9–24. Ride a vintage electric express train to the pumpkin patch at Gum Grove Station for pumpkins, tractor rides, games, music, a hay fort, a pumpkin launcher, and pumpkins for sale, of course. Admission is $20 for adults, $18 for seniors 65+, and $15 for children 2–14. Admission includes museum entry, unlimited train rides, picnic area use, and parking. Reserve your tickets and learn more at www.wrm.org. Read all about our visit to the Western Railway Museum.
Central Pacific Railroad Passenger Station
Old Sacramento State Historic Park
930 Front Street (at J Street)
Sacramento CA 95814
www.californiarailroad.museum
The California State Railroad Museum's Spookomotive Train Ride takes place weekends from October 9–31, and trains depart from the Central Pacific passenger station on Front Street in Old Sacramento hourly from 10 am–4 pm. The historic diesel-powered train is decorated for the season with cornstalks, scarecrows, skeletons, bats, and spiders. Each weekend the Spookomotive will have a special theme, including Superheroes & Villains, Pirates & Princesses, and Witches & Wizards, and rides include exciting on-board entertainment and a delicious Halloween treat. Where: Purchase tickets online ticket office day of (if available). Tickets cost $15 adults and $8 for youth 2–17, or $6 and $3 for museum members. Upgrade to first-class tickets ($29 adults, $19 youth; $19 adults and $12 youth for members). Learn more and order tickets at www.californiarailroad.museum
Roaring Camp Railroads
5401 Graham Hill Road
Felton, CA 95018
(831) 335-4484
www.roaringcamp.com
Welcome fall with the Harvest Faire at Roaring Camp in the Santa Cruz Mountains! Climb aboard the Redwood Forest Steam Train for a trip to Bear Mountain. Pick a pumpkin from the town pumpkin patch. Have fun with COVID-safe children's heritage activities including hands-on crafts and more. Weekends, October 9–31. Adults $33, children 2–12 $24. Reserve tickets and learn more at www.roaringcamp.com
18095 County Road 117
West Sacramento, CA 95691
(800) 866-1690
www.riverfoxtrain.com
This two-hour experience in rural Yolo County is fun for kids of all ages. Each ticket includes a train ride, time at the private park, trick-or-treating, fun activities, and a pumpkin for every ticket holder. Kids will receive a trick-or-treat bag to decorate while on the train. All train ride seating is open. Kids and parents are encouraged to dress up and join in the costume contest. Light snacks and beverages, including beer, wine, and mimosas, available for purchase. Tickets: $49 adults, $29 children 3–13, $10 children 2 and under. www.riverfoxtrain.com
100 West Laurel Street
Fort Bragg, CA 95437
299 East Commercial Street
Willits, CA 95490
(707) 964-6371
www.skunktrain.com
This fall, take a train ride into the redwoods to a magical pumpkin patch wonderland. Enjoy seasonal treats on the train, and when you arrive you'll have the opportunity to explore the pumpkin patch and the nearby redwoods, take photos, and choose your very own pumpkin to bring back on the train with you. Tickets from Fort Bragg: $47.95 adults 13 and up, $36.95 ages 2–12, $10.95 under 2 and dogs; from Willits: $52.95 adults 13 and up, $42.95 ages 2–12, $10.95 under 2 and dogs. More info and tickets at www.skunktrain.com.
56001 California 41
Fish Camp, CA 93623
(559) 683-7273
ymsprr.com
Experience a Halloween railroad adventure near Yosemite! Rides take place October 29–31. Goody bags are provided for all costumed guests and trick or treating is offered in the shops. Experience includes dinner which is served at 5 pm. Train boards at 6 pm for a ride down to the loop for an outdoor spooky storytime. Limited seating due to social distancing. $40 adults, $20 children. Learn more and reserve tickets at ymsprr.com.
166 F Street
Virginia City, NV 89440
(775) 847-0380
www.virginiatruckee.com
While it isn't in California, Virginia City is only about an hour's drive east of Lake Tahoe! Daytime trains run on Saturdays and Sundays October 16, 17, 23, and 24; dusk trains depart at 5 pm on Fridays and Saturdays October 15, 16, 22, and 23. Trains leave from the original 1870 depot for a scenic ride through Nevada's Comstock Lode country. Adults $20, kids $15, toddlers $8, toddlers sitting on parents with no pumpkin are free. Learn more and order tickets: www.virginiatruckee.com
Photo: Western Railway Museum, Suisun City
Sign up for tips & news for Marin families!