Back to top
Homebirth: Not Just for Hippies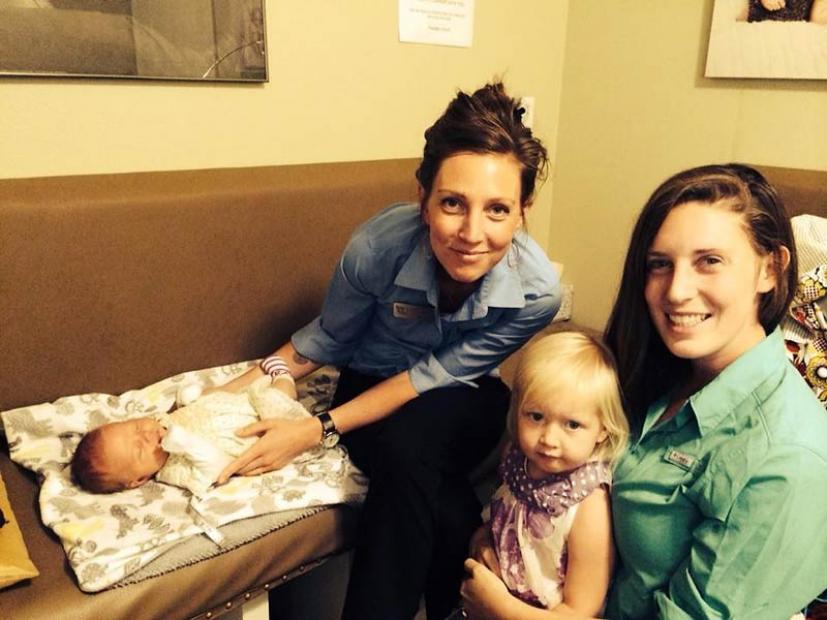 Marin Mommies presents a guest article by local Certified Licensed Midwife Lea Ritter.
Answering the most common questions about home birth.
I am not a hippie, no really, I promise. I know what you're thinking... vegetarian, yoga practicing, home birth midwife... Yeah right. I was born at home and raised by genuine, bonafide, tie-dye-wearing, carob-eating, no-television-watching hippies so I understand... but I truly don't think of myself that way. My kids watch Netflix and have honey nut Cheerios for breakfast, I love pedicures, and I have never worn tie dye in my adult life. When I became pregnant with my first daughter I briefly considered home birth as an option but quickly moved on because I was not THAT kind of woman. Fast forward 7 years and here I am, a licensed midwife, hoping to educate women about home birth and what type of women chooses it. Here are a couple common myths about homebirths:
"Only hippies have home births"
It usually starts with an email. A couple inquisitive lines, excitement for sure, and hesitation. I always answer first with a congratulations. I am celebrating their pregnancy but also their courage for reaching out. I go to a woman's home for a consultation, where they feel comfortable, in their own environment and typically with their partner present. I never know who will greet me at the door. I have worked with all manner of professional women, doctors, lawyers, dancers, acrobats, home makers, dress makers, doulas, bakers, equestrians, the list goes on and yes some of them are even "hippies". The common thread is that these women are seeking options. They have an inner knowing of the birth experience they want, how they want to feel when it's done and above all else, they want to give their baby the best birth possible. When there is no medical complication that means a low intervention, unmedicated, vaginal birth. A homebirth is about having your baby in your own comfortable, familiar environment which reflects your values and tastes. It is the very heart of homebirth.
"It's safe, as long as everything goes perfectly."
I am asked often, "But what if something goes wrong?" I work only with women experiencing low risk pregnancies and therefore deal with far less complications than would be seen in a hospital. However sometimes they do happen. As a midwife I am always vigilant as to not miss a deviation from normal while remaining as non interfering as possible. Statistically less complications occur at home. But sometimes they do and that is why I come to each and every birth with the tools and expertise to intervene if medically necessary. A licensed midwife is certified in CPR, neonatal resuscitation and will bring an oxygen tank, appropriate medications and IV supplies to your birth along with the knowledge and judgment to make the call when transfer to a hospital is necessary. In summary, although rare, complications can arise at home but they are swiftly and safely dealt with by a competent midwife.
Just as there are endless types of women, there are endless types of women who choose the care of a midwife and homebirth. Some celebrities who have chosen home birth include: Julianne Moore, Meryl Streep, Jennifer Connelly, Cindy Crawford, Alyson Hannigan, Alanis Morissette, and Gisele Bundchen. The point however is not that celebrities chose homebirth but rather that it is more about the type of experience you want than the type of woman and mother you are. Do you want a natural, unique birth? Do you want to know personally and trust everyone who will be there? Do you want to give birth on your own terms?
Let go if you can of preconceived notions of birth at home or the hospital. If you are planning a hospital birth go to the hospital and tour, ask lot of questions. You have a right to be fully informed about the procedures and protocols done there. What is routine and who will be there? If you interview midwives ask them anything that comes to mind, don't hold back. Wherever you tour, or whoever you interview, ask yourself how you feel. Do you feel safe? Supported? Could you be vulnerable and powerful here? I urge you to look into your options and decide based on your own personal desires for your birth experience and intuition. The day you meet your child is important. How you feel during and after your birth matters, you don't have to be a hippie to know that.
Lea Ritter is license to practice midwifery in the state of Utah and license by the California Medical Board. Lea has attended over 400 births and been a preceptor to dozens of student midwives. She has worked with some of the most skilled midwives in Marin and at a high volume birth center in Utah. She also traveled to Haiti where she delivered 18 babies in two weeks including twin girls, safely. For more information on homebirth visit www.BayAreaHomebirth.com.
Sign up for tips & news for Marin families!