Back to top
I Scream, You Scream, We All Scream for Organic Ice Cream in Marin!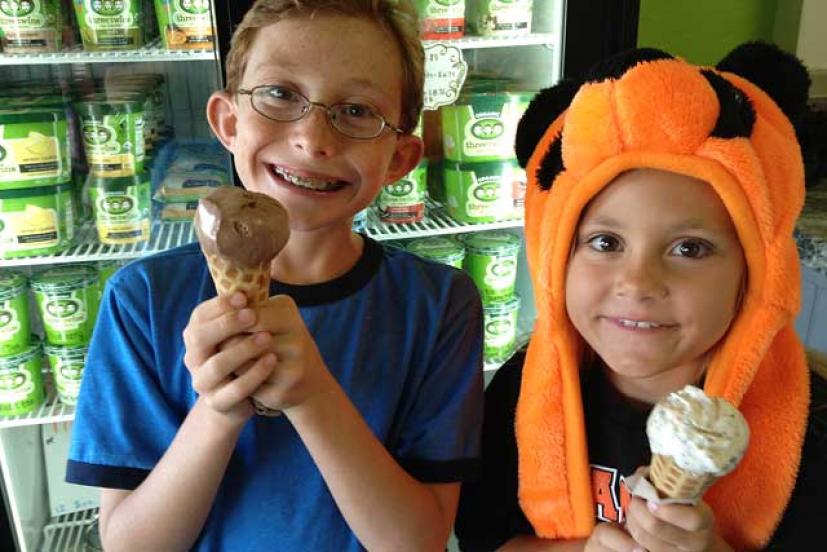 With summer almost here, it's time to think about ice cream! And to make yourself feel a little bit better about eating this rich treat, why not indulge in some locally made organic ice cream? There's nothing quite like freshly made ice cream with local organic ingredients, and we have three favorite spots in Marin where you can satisfy your organic ice cream urge this summer (or at any time of year).
This small ice cream shop at 63 Broadway in downtown Fairfax offers a rotating selection of innovative organic ice cream flavors like vanilla honey lavender, toasted hazelnut, Mexican chocolate, and controlled burn (cinnamon with crystallized ginger and red chile!), as well old favorites like strawberry and chocolate.
Vegan-friendly sorbet and soy options are always offered, too, and prices are a bargain (it's cash and local checks only, though). Make sure you try their homemade waffle cones (which are the only cones they serve). Fairfax Scoop is open daily from noon–10 pm. (415) 453-3130. Read our review here.
Three Twins' two shops can be found near Scotty's Market in San Rafael's Terra Linda neighborhood and in Marin Country Mart in Larkspur Landing. They've been serving up organic, earth-friendly ice cream in Marin since 2005. Flavors and ingredients change seasonally, with dozens of flavors including Madagascar vanilla, strawberry je ne sais quoi (with a splash of balsamic vinegar), cardamom, and chocolate orange confetti.
Three Twins' San Rafael location (the original!) is located at 641 Del Ganado Road, and is open Monday–Thursday 1–9 pm, Friday and Saturday noon–9:30 pm, and Sunday noon–9 pm. Call them at (415) 492-TWIN or visit them online here. The Larkspur shop is located at 2257 Larkspur Landing Circle and is open Monday–Thursday noon–9 pm, Friday noon–10 pm, Saturday 11 am–10 pm, and Sunday 11 am–9 pm. Call (415) 461-8946 or visit them online.
This Mill Valley shop scoops up delicious gelato and sorbetto made using certified organic and primarily local and seasonal ingredients. Their gelato not only looks amazing in their freezer case, but it tastes amazing, too! Prices here are a bit higher than at Fairfax Scoop or Three Twins, but gelato is denser than traditional American ice cream, and it's really worth it for a little splurge on a hot summer day. Definitely get your scoop on a waffle cone, which is coated with chocolate on the inside.
Flavors here run the gamut from traditional to unusual and include root beer, pistacio, mango, chocolate banana, coconut, dark chocolate fresh basil, and more. Noci is located at 17 East Blithedale Avenue, and is open Sunday–Thursday 11:30 am–9 pm and Friday–Saturday 11:30 am–10 pm. Visit them online or call (415) 388-2423.
In addtion to burgers, fries, and homemade candies, the Grass Shack in downtown Tiburon scoops up 16 different flavors of Three Twins organic ice cream. They're located at 1694 Tiburon Boulevard. They're open daily during the summer from noon–8 pm Monday–Thursday, noon–10 pm Friday and Saturday, and noon–9 pm Sunday. Contact them (415) 789-5228 or www.thegrassshack.net.
Pizzeria Pico in Larkspur isn't strictly an ice cream shop, but they do offer organic Straus Family Creamery soft-serve ice cream with a variety of toppings, including extra virgin olive oil and sea salt, TCHO hot fudge or chocolate shell, pistachio crumble, and cocoa nibs. They're at 316 Magnolia Avenue in Larkspur. (415) 945-8900 or www.pizzeriapicco.com.